Mary McCartney's Yummy Spicy Rice Noodles
|
Famed British photographer Mary McCartney, the daughter of vegetarian music legend Paul McCartney, has combined her camera skills with her love of cooking in her new book, Food: Vegetarian Home Cooking. The cookbook features gorgeous pictures, easy-to-follow recipes, and personalized tips. McCartney, who clearly poured her heart into this project, has been kind enough to share some of her best vegan recipes from the book with us—and we are delighted to share them with you! All the recipes in Food: Vegetarian Home Cooking are vegetarian, and many are or can be made vegan. Up first is a spicy, nutty dish called Yummy Spicy Rice Noodles.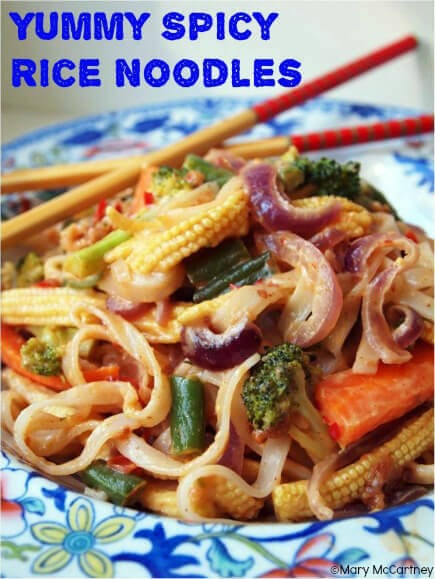 Yummy Spicy Rice Noodles
Adapted from Mary McCartney's cookbook Food: Vegetarian Home Cooking
3 Tbsp. crunchy peanut butter
2 Tbsp. chilli jam or 4 Tbsp. sweet chilli sauce
1 1/4 cups (300) ml heated vegetable stock
2 Tbsp. soy or tamari sauce
6 Tbsp. coconut milk
3 Tbsp. toasted sesame seed oil, plus more for the noodles
3 bundles flat rice noodles (approximately 2 cups or 400 g)
5/8 cups (125 g) baby sweet corn or 3/4 cups (150g) tinned or frozen sweet corn
2 medium carrots, thinly sliced
1 medium red onion, halved and thinly sliced
5/8 cups (125 g) green beans, chopped
3/4 cups (150 g) broccoli, broken into small florets
3 cloves garlic, finely chopped
Chopped peanuts and coriander, for garnish (optional)
Mix together the peanut butter, chilli jam, heated vegetable stock, soy sauce, coconut milk, and 1 tablespoonful of the toasted sesame oil and set aside.
Cook the noodles according to the package directions (but a minute less than suggested), then drain in a colander and toss in a little sesame oil to prevent sticking. (The noodles should be al dente, not too soft, as they will be heated again with the vegetables and sauce.)
Heat the remaining sesame oil in a large frying pan with deep sides (or a wok or big saucepan). Stir-fry the sweet corn, carrots, red onions, green beans, broccoli, and garlic for about 3 minutes on a medium to high heat.
Add the peanut butter mixture and simmer gently until the vegetables are cooked through but still have a good bite to them and are not too soft, about 4 to 5 minutes.
Stir in the cooked rice noodles and heat through. Garnish with chopped peanuts and coriander and serve hot.
Makes 4 to 6 servings
Related Articles
PETA is a participant in the Amazon Services LLC Associates Program, an affiliate advertising program designed to provide a means for sites to earn advertising fees by advertising and linking to Amazon.com.
Respond
In This Section