Mary McCartney's Hot Pot Recipe
|
Mary McCartney, daughter of music legend and famed vegetarian Paul McCartney, has released her very own cookbook called Food: Vegetarian Home Cooking. Mary has already generously shared her recipe for Yummy Spicy Rice Noodles, and now she's giving us her formula for the perfect winter warmer hot pot, an all-in-one dish that is simple and delicious!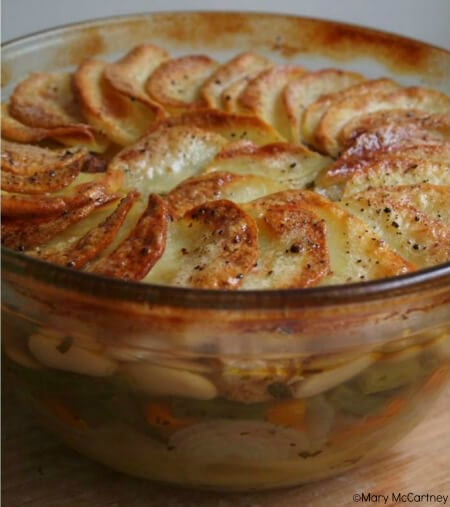 Hot Pot
Adapted from Food: Vegetarian Home Cooking
3 large or 6 medium potatoes, cut widthwise into thin round slices
3 medium onions, halved and cut widthwise into thin slices
2 medium carrots, cut into cubes
1 cup (250 g) green beans, trimmed and chopped
1 15-oz. (420-g) can butter beans, drained
3 vegan sausages or burgers, cooked and chipped into chunky, bite-sized pieces (optional)
2 Tbsp. chopped fresh parsley or 2 tsp. dried mixed herbs
3 1/3 cups (800 ml) vegetable stock (allowed to cool) mixed with 1 Tbsp. cornflour
2 Tbsp. light olive oil
Black pepper, to taste
Preheat the oven to 350°F (180°C).
Take half the potato slices and arrange them in the bottom of a casserole or baking dish (approximately 11 inches or 29 cm). Top with the onion slices, spreading evenly, followed by the carrots and green beans, the butter beans, and the sausage or burger pieces. Sprinkle with the parsley and finish with a layer of the remaining potato slices.
Carefully pour in the vegetable stock, which should come to about 3/8 inch (1 cm) below the top layer of potato slices. Drizzle with the olive oil, season with the black pepper, and cover with baking foil.
Place on the middle shelf in the oven and cook for 1 hour and 45 minutes.
Remove the baking foil, dot the potatoes with vegan margarine or olive oil, and cook until the top layer of potatoes is golden and slightly crisp, about 15 more minutes.
Makes 4 servings
Related Articles
PETA is a participant in the Amazon Services LLC Associates Program, an affiliate advertising program designed to provide a means for sites to earn advertising fees by advertising and linking to Amazon.com.
Respond
In This Section