Not Your Mamma's Cranberry Sauce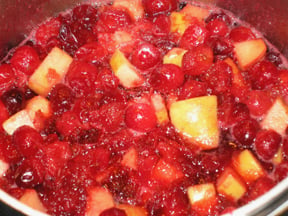 Inspired by chef Symon's first victory in the Thanksgiving challenge on Iron Chef America—OK, and the impending holiday—I decided to get started preparing Thursday's meal.
Every year, my family has cranberry sauce in a can, and to that I just have to say, "No, thanks." Something about a gelatinous blob of food falling out of a can and maintaining its shape is unappetizing. So, I decided to take on the task of making the cranberry sauce this year because not only will it taste better, it'll also be very easy to make.
For my Thanksgiving "challenge"—secret ingredient: cranberry—I went with a recipe that is full of extra fruit, like apples and raisins. You can even add cubed pears and a dash of ginger, or just omit all the extras for a simple cranberry sauce.
I'm pretty sure that this recipe isn't fancy enough to put me in line as the "Next Iron Chef" on the Food Network, but at least it will make the mouths and stomachs of my Thanksgiving guests happy.
Cranberry Sauce
1 cup sugar
1 cup water
1 pkg. fresh cranberries
1 cinnamon stick
1 cup raisins
1 small apple, cored and cubed
•In a heavy-bottom saucepan over medium heat, dissolve the sugar in the water.
•Add the cranberries and cinnamon stick. Cook, stirring often, until the cranberries start to pop. Add the raisins and apple. Cook for an additional 2 minutes, or until the remaining cranberries burst.
•Remove from the heat and refrigerate. The mixture will thicken as it cools.
Makes approximately 2 1/2 cups
Related Posts
Respond
In This Section