Eating On a Budget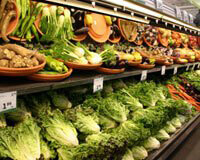 Whether you're a student, a parent raising a family on a tight budget, or someone just trying to save a buck, a vegetarian diet can be a money-saver as well as a life-saver. As mock meats and soy milk have grown in popularity and become more commonplace (they are now available in grocery stores everywhere), prices have dropped and will likely continue to do so.
Aside from these products, there are plenty of other delicious and nutritious vegan options that will save you money. (Plus, going vegetarian now will save you a boatload of cash later in life, when you won't have to pay for expensive cholesterol-lowering drugs or pricey liposuction surgery or gym memberships.)
Here are some cost-effective meal ideas that are sure to please:
Breakfast
Cereal with soy or rice milk, topped with sliced bananas or raisins
Oatmeal with sliced fruit, jelly, maple syrup, or soy milk
Baked beans on toast
Toast or a bagel with peanut butter, jam, hummus, or margarine
Fresh fruit with soy yogurt
Smoothie made with frozen banana chunks or berries and orange juice (add peanut butter or protein powder for a further boost)
Lunch and Dinner
Veggie sandwich made with cucumber, tomato, lettuce, sprouts, and mustard or hummus
Bean burrito (just wrap some beans, veggies, rice, and hot sauce in a tortilla)
Canned vegetarian chili or soup
Beans, rice, and vegetables with corn tortillas or chips
Pasta with tomato sauce and frozen veggies (splurge and mix in some meatless meatballs)
Tacos with beans, rice, and veggies
Brown rice with steamed vegetables and soy sauce
Baked potato topped with salsa, baked beans, or chili
Veggie burgers or veggie hot dogs (top with chili or baked beans for variety)
Fresh salad (add some zing by tossing in raisins, chopped "deli slices," or diced apples)
Top Ramen (the Oriental flavor is vegan)
Stir-fry vegetables and tofu and serve with rice, noodles, or another other grain (add garlic, oil/water, and soy sauce for extra flavor)
Mashed potatoes topped with broccoli and Bacos (yes, Bacos are vegan!)
Cheese-less pizza topped with veggies and garlic
Snacks
Chips and salsa
Pita and hummus
Celery, apples, or carrots topped with peanut butter
Popcorn (sprinkle with margarine and salt)
Raw vegetable plate: carrot sticks, tomato wedges, and celery
Potato wedges (sliced, baked, and topped with spices and salt, margarine, or barbecue sauce)
Trail mix (make your own with nuts, raisins, and sunflower seeds)
Pretzels
Tips to Save Money and Time
$  Plan your meals in advance by jotting down dinner ideas a few days ahead and make lists of things to buy for the week (or month!). Knowing what you need in advance will also help reduce expensive impulse purchases.
$  Don't be tempted to eat out every day: Pack a lunch.
$  Make enough to have leftovers. Don't be afraid of the freezer—leftovers are great the next day, but many things (from soup to pasta) can be frozen and kept longer too.
$  Shop in the bulk sections of grocery stores or health-food stores, where you can often purchase bulk pasta, rice, pre-packaged meals, spices, and beans at cheaper prices than the pre-packaged brands, and you can buy as much or as little as you need. Or try bulk pre-packaged foods from stores like Costco.
Respond