Common Questions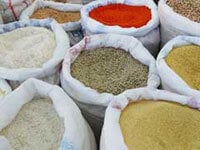 Here is more information about a few topics that we are sometimes asked about regarding healthy vegetarian eating. For more in-depth information, check out the Web site of the Physicians Committee for Responsible Medicine (PCRM).
Blood-Type Diet
A book published a decade ago claimed that people's diets should be based on their blood types. The book recommends that people with blood type A (about 44 percent of the population) adopt a vegetarian diet and suggests that people with blood type O eat cow's flesh. This diet has garnered major criticism because of its lack of supporting scientific evidence. Read Dr. Michael Klaper's review of the diet.
High-Protein and Low-Carbohydrate Diets
The popularity of the Atkins diet and its spin-offs has plummeted in the last couple of years, and the company that promotes the diet (Atkins Nutritionals) has gone bankrupt. Virtually every respected medical group has condemned high-protein and low-carbohydrate diets for being dangerous to human health, and countless people have turned away from these diets after suffering from a range of negative side effects. Kidney problems, heart disease, and cancer are some of the potential long-term consequences of following the Atkins diet, according to the world's most prominent health agencies. Visit AtkinsExposed.org for a thorough, fully cited review of the dangers of high-protein and low-carb diets.
While people may lose weight in the short-term with fad diets, they almost always gain it back (and then some). Many of these diets also cause harm to your health. A healthy, plant-based diet, on the other hand, allows you to reach and maintain a healthy weight, while providing all the nutrients that your body needs and eliminating dangerous substances like cholesterol and saturated animal fats. Learn more about maintaining a healthy weight.
Soy Foods
Some people have expressed concern about the consumption of very high amounts of soy products, but there is widespread consensus that soy is a beneficial part of a varied diet, especially in its traditional forms, such as tofu, tempeh, and soy milk. Soy is packed with high-quality protein, is cholesterol-free, and contains healthy fiber and complex carbohydrates. Animal products, on the other hand, have been linked to several types of cancer, are loaded with saturated fat and cholesterol (two of the leading causes of heart disease), and contain no fiber at all. A Washington Post article entitled "Eat Your Soy, Boy" said that many of the theoretical concerns about soy have proved to be erroneous, while many of the suggested benefits have been confirmed in human studies. These benefits include decreased risk of osteoporosis, prostate and colon cancer, and diabetes. Soy may also help reduce the risk of obesity and even the risk of Alzheimer's, according to a study conducted by the University of California.
It is, of course, very important to make sure that your diet is varied—the wider the variety of plant foods that you eat, the more that your health will benefit. While many "transition foods," like Smart Dogs and faux-chicken nuggets are soy-based, it is not necessary to make soy a staple of an animal-friendly lifestyle. Other tasty, protein-packed vegan foods include lentils, nuts, beans, peanuts, seeds, chickpeas, and whole grains. To learn more about soy, read this article.
Vegetarianism and Pregnancy, Children, and Teenagers
Maintaining a vegetarian diet throughout pregnancy and raising a child on a nutritious vegetarian diet are terrific ways to help ensure that a child gets a healthy start. The late Dr. Benjamin Spock—perhaps the world's most widely respected pediatrician—wrote, "Children who grow up getting their nutrition from plant foods rather than meats have a tremendous health advantage. They are less likely to develop weight problems, diabetes, high blood pressure, and some forms of cancer." Read about the extensive benefits that vegetarian children enjoy and view our recommended-reading list. PCRM has written a handy guide to vegetarian pregnancy and to raising vegetarian children.
Respond