Lunch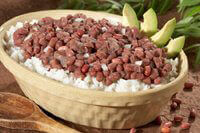 At lunch, you need something fast and filling to make it through the rest of the day. Here are some meals that are easy to prepare:
Whip up a flavor-packed buffalo "chicken" salad by covering Boca Original Chik'n Nuggets with your favorite buffalo sauce (most brands are vegan). Place the nuggets on a bed of crispy romaine lettuce coated in our creamy "Ranch" Dressing to balance out the spicy sauce.
On a cold day, soup is the way to go. You can find canned vegan soups, such as Healthy Choice's Garden Vegetable Soup, Amy's Organic Lentil Soup, or Progresso's Vegetable Classics line, in almost all grocery stores. Or you can make your own! Check out our recipes for zesty Chipotle Split-Pea Soup and "Cream" of Broccoli Soup. Just heat and pair with a slice of warm bread or a salad.
You can't go wrong with Red Beans and Rice. This classic vegan dish is so hearty and delicious that you might forget how healthy it is. For extra flavor, try tossing in some vegetarian sausage (try Melissa's and Tofurky brands).
For a quick, satisfying lunch, top a can of Hormel Vegetarian Chili With Beans or Amy's Chili with a dollop of Tofutti Sour Supreme. Pair it with a Corn Bread Muffin.
Mix McCormick Sloppy Joe Seasoning or Manwich sauce with vegetarian beef crumbles and pile onto a bun for a satisfying and messy sandwich classic.
Pair our Baby Spinach Salad With Raspberry Vinaigrette and Avocado and Tomato Sandwich for a light yet satisfying meal.
Stuff a pita pocket with our Tofu Egg Salad (it has a kick!) or Better-Than-Chicken Salad and your favorite fresh veggies.
If you have a little extra time to cook, try our Spiced Cauliflower or Broccoli and Walnut Surprise.
Wrap up your favorite veggies and veggie deli slices (Tofurky and Yves make delicious "cold cuts") in a tortilla and slather on Vegenaise or Nayonaise in place of egg-filled mayo. Can't find vegan mayo? Call your local health-food store—most carry a few varieties.
Respond