Breakfast and Brunch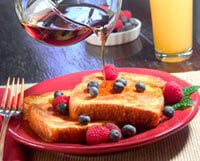 Eating breakfast or brunch out? Try a bowl of grits or oatmeal, hash browns, a bagel or toast with jelly, or a fruit cup. For breakfast or brunch at home, try these ideas:
Make a decadent breakfast of vegan French Toast.
Make Home Fries by frying up some sliced boiled potatoes, chopped onions, and spices. Serve them with soy bacon or sausage (try Lightlife Gimme Lean or Boca brands).
Smother a toasted bagel with Tofutti brand Better Than Cream Cheese or soy margarine and fruit jam.
To satisfy your morning sweet tooth, try our Blueberry-Banana Muffins With Crumb Topping or Yummy Berry Muffins.
You can find vegan cereal anywhere—just serve it with chilled soy or rice milk instead of cow's milk!
Check packages of pancake and waffle mixes—many, like Bisquick, are vegan—and just add soy or rice milk instead of cow's milk (Silk brand soy milk is available everywhere). If the recipe calls for eggs, try an egg replacer instead. You can also buy frozen waffles (Van's makes vegan frozen waffles) or whip up your own waffles from scratch.
In a hurry? Grab a cup of WholeSoy yogurt and a banana. WholeSoy comes in several delicious flavors, including raspberry, lemon, peach, blueberry, strawberry, vanilla, and more!
Some Kellogg's Pop-Tarts (without icing) are vegan, as are Pepperidge Farm's apple and cherry turnovers.
Eggs are cholesterol bombs and come from an extremely cruel industry, so try Tofu Scramble instead for a delicious, hearty breakfast.
Many stores carry English muffins that are vegan (check the store brand). They make a great breakfast sandwich when paired with Lightlife's tempeh bacon and a slice of soy cheese.
Respond