Appetizers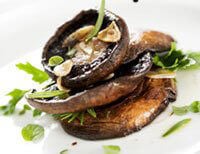 Appetizers can be as simple as chips and dip or as elegant as a vegetarian pâté. Here are some ideas for quick-and-easy hors d'oeuvres:
"Parmesan" and "Ham" Toast Points—simple and delicious.
Whip up a seven-layer Mexican dip using refried beans, black olives, salsa, shredded soy cheese, Tofutti brand "sour cream," sliced green onions, and jalapeños. Here's a recipe.
Stuffed Mushrooms are always a favorite.
Veganize that old standby, pigs in a blanket, using tofu hot dogs wrapped in puff pastry. (Pepperidge Farm brand puff pastry is vegan.)
Creamy Spinach Dip is easy to make (and easy to eat!).
"Shake 'n Bake" bite-size pieces of mock chicken or tofu and serve them with toothpicks.
Guacamole has lots of healthy monosaturated fat, which (unlike harmful saturated animal fats) can improve your cholesterol levels. Simply mash avocado with lime, cilantro, salt, and garlic. Serve with yellow or blue corn chips.
Grab a package of Nate's vegetarian meatballs (or any faux meatballs), cover them in barbecue sauce, and heat them in the microwave.
Beans are packed with healthy plant protein and fiber. Try our Bean Dip Delight and enjoy with chips or toasted pita bread wedges.
Try Lightlife's Gimme Lean vegetarian sausage in our recipe for Sweet and Sour "Meatballs"—they're excellent served on their own.
Try our amazing Cheese-Free Nut Ball.
There's no reason to hurt a duck for a little pâté. Here are some delicious alternatives: Mushroom-Walnut Pâté and Fresh Shiitake Pâté.
Short on time? Pour some pretzels or potato chips into a bowl and voila! You're done.
Respond