Lovin' Latkes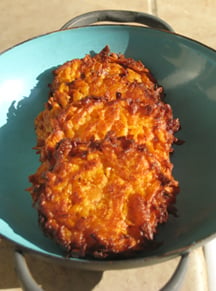 Potato pancakes, or latkes in Yiddish, are a Hanukkah tradition. And like many foods consumed during the holiday, they are fried or baked in oil—some say a little too much oil. But that's exactly what helps achieve the crunchy golden crust, so I say bring it on.
Traditional latkes are made with white potatoes and onions, but I wanted to spice it up a bit and try my hand at sweet potato latkes flavored with brown sugar, cloves, and cinnamon. Other latke recipes I've seen include apple-cinnamon, chickpea, carrot, or even Jerusalem artichoke.
I must warn you that while these latkes taste fantastic (I credit that to the cloves, cinnamon, and oil), they probably won't look too pretty—and the proof is in the pictures. But taste is all that really matters anyway, right?
Sweet Potato Latkes
2 sweet potatoes, peeled and shredded
Egg replacer equivalent to 2 eggs
1 Tbsp. brown sugar
3-4 Tbsp. flour
1/2 tsp. ground cloves
2 tsp. ground cinnamon
1/4 cup vegetable oil for frying
Salt, to taste
•Wrap the shredded sweet potatoes in cheesecloth and place in a colander. Squeeze the potatoes to remove as much liquid as possible. Let sit to release more liquid, then squeeze again.
•In a large bowl, combine the sweet potatoes, egg replacer, brown sugar, flour, cloves, cinnamon, and salt and mix well.
•Heat the oil in a large, heavy skillet over medium heat.
•Form the potato mixture into pancake-size cakes and fry in the hot oil. Flip the cakes after 2 to 3 minutes, when the bottom is browned. Brown the other side, then remove and drain on paper towels. Serve hot.
Respond