'Light My Fire' Chocolates
The following article was written by Carissa Leventis-Cox of Mama in the Kitchen, and she ain't cookin'!
Looking to spice up your Valentine's Day? Try these fiery cayenne-dipped chocolates for a real kick! You can give these a special holiday touch by making them in heart shapes—or just make standard bars to kick your chocolate cravings year-round.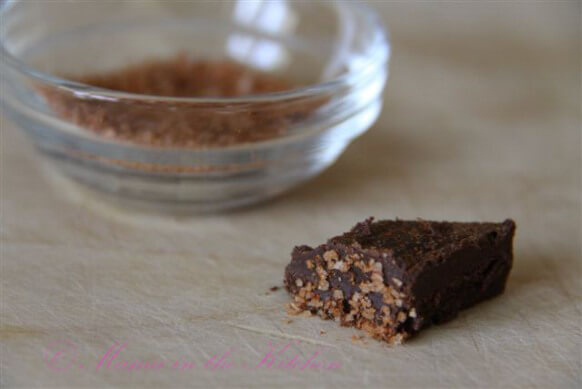 Easy Raw Chocolates
4 oz. cacao butter or coconut butter, broken into small pieces
Pinch sea salt
2 oz. agave syrup (or your choice of sweetener)
2-3 oz. raw cacao powder or unsweetened cocoa powder (use more or less depending on how dark you want the bars to be)
Put the cacao or coconut butter in a heat-resistant bowl and place it over another bowl filled with hot water. Stir occasionally as the butter melts.
Add the salt, syrup, and cacao or cocoa powder. Mix well.
If making hearts, fill each heart-shaped mold halfway up with chocolate. (I use silicone molds, but you can also use metal molds). If making bars, simply shape with your fingers and place on a plate or cookie sheet.
Allow to cool in the freezer for 10 to 15 minutes, or until they harden. For hearts, pop out of the molds carefully.
Dip the chocolates into Sweet and Spicy Cayenne Dip (see recipe below).
Sweet and Spicy Cayenne Dip
1/4 -3/4 tsp. cayenne pepper, or to taste
1/2 Tbsp. Sucanat or Rapadura
1 Tbsp. sea salt
Mix all ingredients together.
Respond