Let's Get It On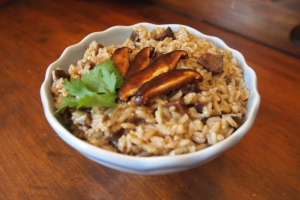 Nothing guarantees a little nookie like an aphrodisiac-laced meal. And if you've already met your limit for chocolate, why not try another vegan stimulant—truffles. No, I'm not talking about the chocolate dessert, but the tubers that were the "it" ingredient for many years.
Truffles have long been prized because of their rarity and pungent flavor, but they are also known for their power as an aphrodisiac. Some varieties even have a scent that mimics the male pig sex hormone, so there's no denying that they are a food o' love.
White truffle oil is the easiest to find and most affordable variety and is the perfect addition to a creamy risotto. The muskiness goes well with the earthy flavor and chewy texture of the gourmet mushrooms (I recommend oyster) and the creamy consistency from the arborio rice.
Pair this risotto with a little red wine and mood lighting, while Marvin Gaye sings away on the stereo, and you'll be getting it on in no time—or at least you'll wish you were.
Truffled Wild Mushroom Risotto
1 Tbsp. olive oil
1 cup chopped onions
6 cups vegetable stock
1 tsp. chopped garlic
2 cups arborio rice
1/3 lb. assorted exotic mushrooms, such shiitakes, hen of the woods, and oysters, chopped (about 2 cups) 1 Tbsp. soy margarine
3 Tbsp. chopped green onions
2 Tbsp. white truffle oil
Salt, to taste
Pepper, to taste
Heat the oil in a large sauté pan over medium heat. Add the onions and sauté until slightly soft, about 3 minutes.
Add the stock and garlic. Bring the mixture to a boil, reduce the heat to medium, and simmer for about 6 minutes.
Add the rice and simmer for 10 minutes, stirring constantly.
Add the mushrooms and continue to simmer, stirring constantly, until the mixture is creamy and bubbly, about 8 minutes.
Stir in the margarine, green onions, and truffle oil. Simmer for 2 minutes, stirring constantly. Season with salt and pepper, to taste.
Makes 4 to 6 servings
Respond