Let's Do Brunch
Written by
August 17, 2007
|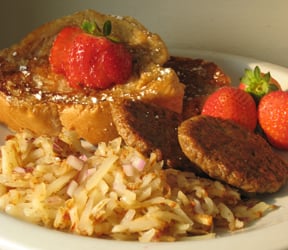 If, like me, you've paid your dues in the service industry, you've probably spent many Sunday mornings working brunch instead of sitting down to eat it. I've always been a little jealous of people who have the time and funds to do brunch, so last weekend, I created a little feast for myself to make up for all those missed meals.
When prepping for my pity-party feast, I couldn't narrow it down to one item, so I decided to try a few classics. I made French toast topped with fresh strawberries, powdered sugar, and syrup. I grilled hash browns—served scattered and smothered—and mock sausage patties. If you have time, try making your own mock sausage, but if you want to get the food into your stomach as quickly as possible, like me, use a prepackaged "sausage" such as Gimme Lean.
Sitting down to enjoy my meal—with a mimosa in hand—was nice, but it actually made me miss working brunch more than anything. The satisfaction of working so hard on a Sunday morning came from feeling like I had survived a battle—no matter how small. When the doors closed at 3 p.m., I would sit around sharing war stories with my buddies, and all the morning's annoying customers would be forgotten shortly after.
Check out "Making the Transition" for more great brunch ideas.
Vegan French Toast
1 cup soy milk
2 Tbsp. flour
1 Tbsp. nutritional yeast flakes
1 tsp. sugar or sweetener of your choice
1 tsp. vanilla
1/2 tsp. salt
Pinch nutmeg
6 slices whole wheat bread
Mix all the ingredients (except the bread slices) in a shallow bowl.
Dip the bread slices into the soy-milk mixture and cook, either on a nonstick griddle until browned on both sides or on a greased cookie sheet in a 400°F oven until golden on both sides, turning once.
Makes 3 servings
Respond
In This Section