'Kale-icious' Protein Smoothie
The following article was written by Keegan Baur.
There are seemingly countless kale smoothie recipes on the Internet, and I've decided to add one more to the collection. I get one of these at just about every raw restaurant and smoothie bar that I visit because I'm pretty much addicted. As for my own recipe, I think there are three ingredients that set it apart from the others: (1) almond butter, (2) silken tofu (for extra creaminess), and (3) red kale, which is slightly sweeter than green kale. (FYI: Red kale has green leaves but a reddish-purple stem, so it's easy to identify.) I have a couple of these smoothies every week, post-workout, and it's always just the refresher I need. Hope you like the recipe too!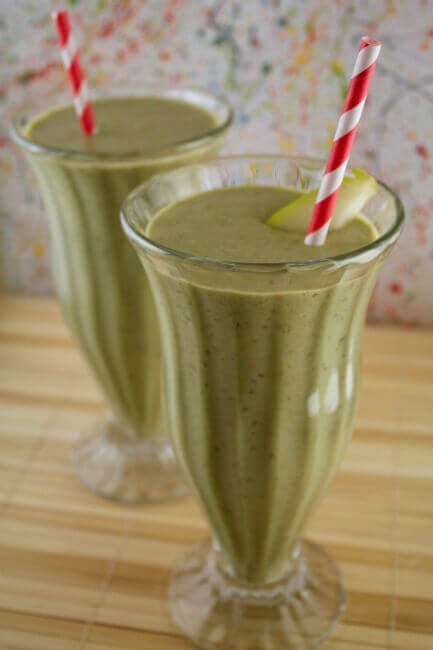 Kaleicious Protein Smoothie
2 cups chopped red kale, center stems removed
2 cups nondairy milk
1 pear, cored and diced
1 frozen banana, sliced
6 oz. soft silken tofu
2 Tbsp. almond butter
2 Tbsp. flaxseed oil
1-2 Tbsp. agave nectar (optional; another sweetener can be substituted)
1 scoop vegan vanilla-flavored protein powder
Place the kale and nondairy milk in a blender and process until completely smooth.
Add the remaining ingredients and blend until completely smooth.
Makes 2 16-ounce servings
If I have it on hand, sometimes I'll add a nickel-size piece of fresh ginger, minced. If you like the taste of ginger, give it a try.
What do you put in your smoothies? If you have any secret ingredients, do tell!
Respond