Italian Stuffed Zucchini Boats
Are you looking for an impressive side dish that will make your guests' mouths water? Look no further than these Italian Stuffed Zucchini Boats! They're easy to make and so delectable that you probably won't even care what the main dish is. And the best part? They're completely vegan!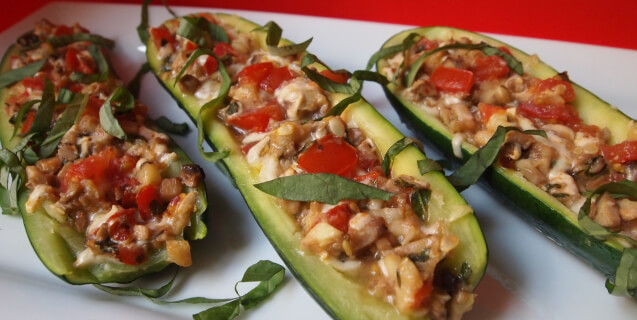 2 medium zucchini
2 garlic cloves
1 medium tomato, seeded and finely chopped
1/2 cup finely chopped fresh mushrooms
1/2 tsp. dried basil
1/2 tsp. dried oregano
1/4 tsp. crushed red pepper flakes
2 Tbsp. olive oil
3/4 cup vegan grated Parmesan cheese
2 Tbsp. fresh basil, chopped

Preheat the oven to 400°F.
Cut the zucchini in half lengthwise. Scoop out the pulp and seeds, leaving a 1/4-inch-thick shell (use a spoon for this). Chop up the pulp from the zucchini.
Combine the zucchini pulp, garlic, tomato, mushrooms, basil, oregano, crushed red pepper flakes, olive oil and 1/2 cup of the vegan Parmesan cheese in a medium bowl. Divide the mixture among the zucchini shells.
Place the stuffed zucchini in a 13-inch-by-9-inch baking dish and cover with foil. Bake for 25 minutes, or until the zucchini is tender.
Bake uncovered for 5 minutes more. Top with the fresh basil.
Makes 2 to 4 servings
Adapted from The Comfort of Cooking
Respond