Isn't That Just Pumpkin
Written by
September 25, 2007
|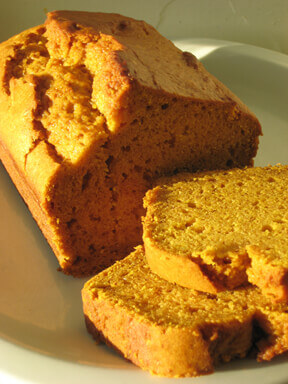 When you read the title of this post, you might have been worried that I would tell some mushy story—maybe about an ex-boyfriend I referred to as pumpkin—but don't worry. I'm cheesy, but not that cheesy. As I promised yesterday, I am going to share more on pumpkin bread today.
The bread's subtle flavors were the perfect backdrop for yesterday's figs poached in port, but there are many other uses for pumpkins. They can be roasted, puréed, used as a main ingredient in beer or a latte, or smashed on Halloween (I'm kidding!), but none of these is quite as comforting as using the fruit in baked goods. To me, this method seems to mellow the pumpkin flavor, allowing the spices to really shine.
This pumpkin bread can stand on its own—the lone pumpkin in the patch—with only a dollop of vegan cream cheese on top, or can be used in stuffing or as a foundation for desserts. If you're using fresh pumpkin, be sure to save the seeds for roasting. Simply toss the roasted seeds with melted Earth Balance, and then you can season them, like, a million different ways—the possibilities are endless.
A few out-of-the-ordinary pumpkin recipes I've stumbled upon are Pumpkin Curry, Sicilian Sweet and Sour Pumpkin—which can easily be veganized—and Pumpkin Chocolate-Chip Squares. Do you have a unique pumpkin recipe to share, too, pumpkin?
Pumpkin Bread
1 1/2 cups flour
1/2 tsp. salt
1 cup sugar
1 tsp. baking soda
1 cup pumpkin purée
1/2 cup vegetable oil
Egg replacer equivalent to 2 eggs
1/4 cup water
1/4 tsp. nutmeg
1 tsp. cinnamon
1/4 tsp. allspice
1/4 tsp. cloves
Preheat the oven to 350°F.
Sift together the flour, salt, sugar, and baking soda in a large bowl. Set aside.
In a separate bowl, combine the pumpkin, oil, egg replacer, water, and spices.
Pour into the dry ingredients and mix until just combined.
Pour into a greased 9- x 5- x 3-inch loaf pan. Bake for 50 to 60 minutes or until a toothpick inserted in the middle comes out clean. Remove from the pan and let cool on a rack.
Keep wrapped in the refrigerator.
Makes 8 servings
Respond
In This Section