Interview With a Skinny Bitch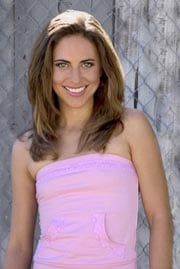 Rory Freedman, one of the authors of the much-loved Skinny Bitch series, has answered a few short questions for us on the books, cooking, great vegan products, and what's next in the series. Read all of her answers below, and be sure to check back tomorrow for a recipe, tested by yours truly, from Skinny Bitch in the Kitch.
Can you tell us a little about the new book, Skinny Bitch in the Kitch, and how you came up with all the recipes?
SBK was really a gift to our readers—people who had read SB, changed their diets as a result, and wanted another tool in helping them live the vegan lifestyle.
But Kim and I are not professional chefs; we're just professional eaters. So our publisher hired a cookbook consultant to help us develop the recipes.
Where did you learn to cook? Any formal experience?
Neither one of us had any formal training. We both just spend a ton of time in our kitchens and obsessing about food in general. Eating is, by far, our favorite thing to do.
Do you have a favorite cooking method and favorite ingredient that help keep recipes "skinny"?
A favorite cooking method? I'm a fan of all of them! Anything that gets a pile of random ingredients into a cruelty-free dish works for me! (Although I do have to say, I'm not big on fried and deep-fried stuff.)
Are there any newer vegetarian products on the market that you are particularly fond of or recommend?
I don't know how new they are, but:
Parma is an amazing Parmesan cheese substitute made from walnuts. It tastes like a dream and is healthy, to boot!
I've been seeing more and more Gardein soy chicken and soy beef products lately, and they're pretty darn good.
Sunergia has a soy feta that totally rocks my world!
Any tips or tricks for the at-home chef who wants to be a "skinny bitch"?
Yeah, first get rid of all the dead, rotting, decomposing flesh and haul away all that dairy nastiness. Skinny Bitches are vegan!
Second, get a bunch of vegan cookbooks. Our faves are The Joy of Vegan Baking by Colleen Patrick-Goudreau, How It All Vegan and In the Garden of Vegan by Tanya Barnard and Sarah Kramer, Veganomicon by Isa Chandra Moskowitz and Terry Hope Romero, and The Compassionate Cook by Ingrid Newkirk.
If you were stranded on a deserted island and could only eat one kind of food, what would it be?
Ugh! This question is nothing short of torture! One food? Forever? Ugh! If I were being sensible, I'd have to say fruit, simply because it's so healthy. But all the while, I'd be dreaming about nachos, mashed potatoes, chimichurris from Candle Café in NYC, and cupcakes!
What's next for both of you?
We've got three more books in the works: Skinny Bitch: Bun in the Oven (for pregnant women), a Skinny Bitch journal/diary, and Skinny Bastard (for men).
And lots and lots of eating!
Related Posts
Respond