Ice Cream Sandwiches for Grown-Ups
Written by
Amy Snyder
|
July 25, 2007
These days, I like to use soy ice cream to create grown-up, vegan versions of the classic. Sometimes I will take the time to make my own soy ice cream, but when I'm busy (or just being lazy), I'll use Tofutti or So Delicious ice cream. By mixing a few ingredients into the ice cream, you feel like you're getting an extra-special treat.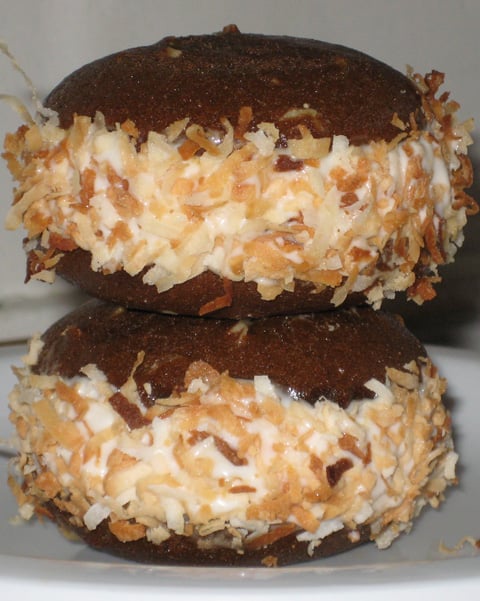 Coconut-Ginger Ice Cream Sandwiches
For the Ice Cream:
3 14-oz. cans coconut milk (approximately 5 cups)
2 Tbsp. agar-agar flakes
2-3 vanilla beans
1/8 tsp. sea salt
1 Tbsp. vanilla extract
1 cup maple syrup
2 Tbsp. melted coconut oil
In a medium saucepan, use a wire whisk to combine the coconut milk, agar-agar, vanilla beans, and sea salt.
Bring to a simmer, cover, and cook over medium-low heat until the agar-agar is completely dissolved, stirring often.
Remove from the heat and discard the vanilla beans. Stir in the vanilla extract and the maple syrup. Pour into a shallow pan and cool in the refrigerator for approximately 25 minutes, or until firm.
In a blender, combine small amounts of the milk mixture and the coconut oil until creamy. Repeat until the remaining milk mixture and oil have been blended.
Pour into a bowl and stir, adding additional maple syrup and vanilla if desired.
Pour into an ice-cream machine and churn until firm.
For the Cookie:
2 1/4 cup flour
2 tsp. ground ginger
1 tsp. baking soda
3/4 tsp. ground cinnamon
1/2 tsp. ground cloves
Pinch of salt
3/4 cup margarine, at room temperature
1 cup sugar
Egg replacement equivalent of 1 egg
1 Tbsp. soy milk
1/4 cup molasses
Preheat the oven to 350ºF.
In a large bowl, combine the flour, ginger, baking soda, cinnamon, cloves, and salt.
In a separate bowl, whip the margarine and sugar until fluffy. Add the egg replacer, soy milk, and molasses. Gradually add the dry ingredients.
Shape 2 Tbsp. of dough into a ball and press onto the cookie sheet. Bake for 8 to 10 minutes, or until the edges are browned. Remove and cool on a wire rack.
To Assemble:
1 cup coconut flakes
Preheat the oven to 350ºF.
Spread the coconut onto a baking sheet and cook for 2 to 4 minutes, stirring often, until lightly browned.
Spoon 1/4 cup of ice cream onto the flat side of a cookie. Spread to coat one side of the cookie (or see the measuring cup tip above). Top with another cookie. Roll the edges of the ice cream cookie in the toasted coconut. Repeat with the remaining ingredients. Wrap in plastic wrap and freeze for 30 minutes. Remove the plastic wrap and serve.
Makes 6 to 8 servings
For my coconut-ginger ice cream sandwiches above, I used vanilla Tofutti and mixed in 1/4 cup of shredded coconut and 1 tsp. of coconut extract. Things got very messy, so here are a few tips to make the process a little easier for you:
After mixing the coconut and coconut extract into the ice cream, place it in the freezer until it's very firm.
When baking the cookies, do not overcook them! They need to be very soft, not hard or crunchy. If they are too hard, then all the ice cream will just ooze out the side of the sandwich when you try to bite into it.
Use a measuring cup to aid in the assembly of the sandwiches. Place one cookie in the bottom of a 1/2 cup measuring utensil, fill it with ice cream until level with the top of the measuring cup, and then place the second cookie on top.
Wrap the finished sandwiches in plastic wrap and freeze for about 30 minutes before eating.
Related Posts
Respond