Hot! Hot! Hot! Jalapeno Poppers
Some people are cringing while others are cheering because football season is here again. Tonight is the NFL's season opener, and how can you watch football without a greasy, deep-fried, cheezy snack in your hand?
Last year I featured Game Day Potato Skins, which were topped with melted vegan cheese and soy bacon pieces, but this year I'm going to spice it up a bit with Hot! Hot! Hot! Jalapeño Poppers.
As I mentioned earlier in the week, I was at my grandmother's house this past weekend and loaded up on fresh items from her garden. In addition to the mint I used here, I brought home a whole bag of jalapeños.
Supermarket jalapeños are rather lacking in heat these days, so I wasn't expecting the scorching heat that came from homegrown peppers. Yes, I'll admit that I can't handle my food too hot, but these peppers almost set my mouth on fire. To balance out the heat, I stuffed the peppers with vegan cream cheese and coated them with the thickest layer of cornmeal batter I could get to stick.
If you're making these as a game-day treat, you can adjust the filling and add various spices or even soy bacon bits. Enjoy the recipe—oh, and go, Saints!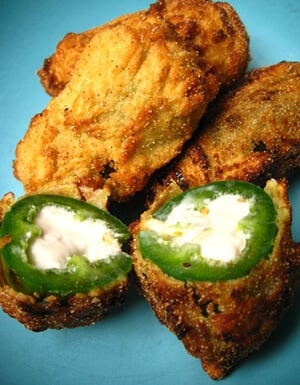 Jalapeño Poppers
12 whole jalapeño peppers
1 cup vegan cream cheese
3/4 cup flour
1/4 cup plus 2 Tbsp. cornmeal, divided
1/4 tsp. salt
1/4 tsp. pepper
1 cup plain soy milk
Vegetable oil
•Cut each jalapeño from end to end and remove the stem from the top. Using a small knife (or running water), remove the seeds, but be careful not to split the peppers completely.
•Stuff each pepper with approximately 1/2 Tbsp. vegan cream cheese and set aside.
•In a small bowl, combine 1/4 cup flour, 2 Tbsp. cornmeal, and the salt and pepper. Stir in the soy milk and set aside.
•In another small bowl, combine the remaining 1/2 cup flour and 1/4 cup cornmeal.
•Dip each pepper into the flour mixture, then into the batter, and then back into the flour, so that there is a thick layer of batter on the peppers.
•Drop the peppers into vegetable oil that has been heated to 375°F and let cook for 1 to 2 minutes on each side, being careful not to burn.
•Remove the cooked peppers from the oil and let drain on paper towels.
Makes 12 jalapeños
Respond