Homemade Vegan Easter Eggs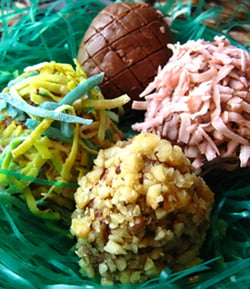 There are a variety of places online where you can order vegan Easter candy, and finding vegan chocolate bunnies, chocolate eggs, or jelly beans—just like those you remember filling your Easter basket with as a child—is no longer difficult. However, if you're like me and you've waited until the last minute to plan for the sugar fest that often comes with the holiday, finding these goodies won't be quite as easy.
But don't fear! Those of us who tend to procrastinate—or are just super-crafty—can go the homemade route. Below is a recipe for basic chocolate eggs, which you can then manipulate into a variety of designs. Here are a few to try:
Roll egg-shaped chocolate in chopped nuts.
If you can find a cute Easter-themed mold, simply fill it with the chocolate and refrigerate.
Allow the chocolate to cool in a thin layer, then cut out your favorite shape with Easter-themed cookie cutters.
Decorate egg-shaped chocolate with dyed coconut. I recommend adding a few drops of food coloring to water and then adding your coconut. Allow to soak for a few minutes in the water, then remove and allow to dry completely before using to decorate.
Use plastic Easter eggs to get your desired shape, scoop out the center, and fill with peanut butter, nuts, or another favorite candy. Close the plastic egg and refrigerate until both sides are firm and have joined together.
Cover egg-shaped chocolate with holiday color foils or ribbons.
Cover egg-shaped chocolate with vegan nonpareils or another small vegan candy.
You can shape and decorate the chocolate any way you'd like, so get creative with it! Also, please share if you have any other tips for DIY Easter candy.
Chocolate Eggs
1 8-oz. package nondairy cream cheese, softened at room temperature
3 cups powdered sugar
12 oz. semi-sweet chocolate, melted
1 1/2 tsp. vanilla
Decorations, e.g., chopped nuts, unsweetened cocoa, toasted flaked coconut
Beat the nondairy cream cheese in a mixing bowl until it is smooth. Gradually add the powdered sugar, beating until it is well blended. Add the melted chocolate and vanilla and mix well.
Refrigerate for about 1 hour.
Shape the mixture into 1-inch balls or egg shapes and roll them in the nuts, cocoa, or coconut. Store the finished chocolates in the refrigerator.
Makes approximately 5 dozen chocolates
Vegan candy and sweet treats can be found in supermarkets and on the menus of many chain restaurants. Since eating vegan is easier than ever, there's simply no reason for any animals to end up on our plates. Order your free vegan starter kit below, and check out our guide to eating vegan.
Respond