Homemade Polenta With Mushroom Marinara Sauce
Baby, it's cold outside. If you've been searching for a dish to help you keep warm this season, look no further than polenta, a winter staple in Northern Italy. This corn-based meal is as versatile as it gets—it can be made sweet or savory and be baked or fried. Buon appetito!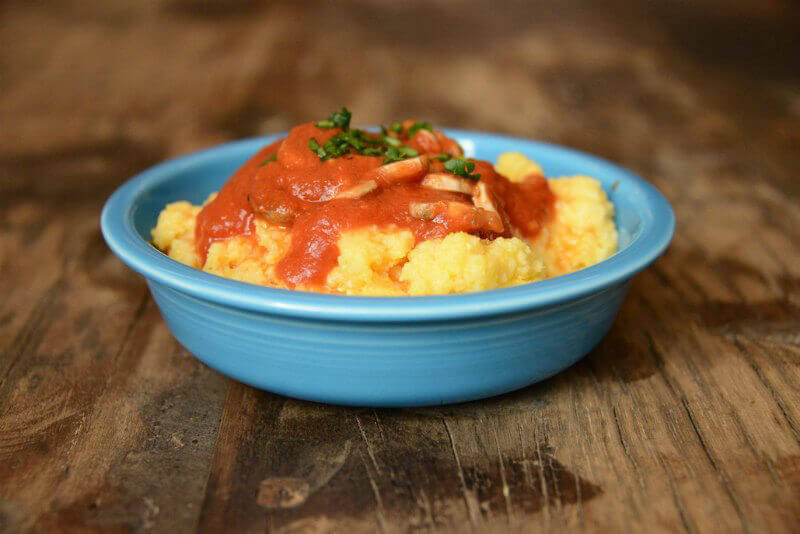 Homemade Polenta With Mushroom Marinara Sauce 
6 cups water
1 tsp. salt
3 Tbsp. vegan margarine
2 cups cornmeal
1 Tbsp. extra-virgin olive oil
2 cloves garlic, finely diced
16 oz. marinara sauce
1 oz. vodka (optional)
8 oz. white mushrooms, sliced
1–2 Tbsp. vegan Parmesan cheese
Fresh basil, for garnish
Bring the water and salt to a boil in a large pot.
Add the margarine.
Gradually stir in the cornmeal and let simmer, stirring often, for about 30 minutes.
Remove from the heat and set aside.
Heat the olive oil in a large saucepan.
Add the garlic, marinara sauce, vodka, and mushrooms and let simmer for about 5 minutes.
Scoop the polenta into serving bowls and top with the marinara sauce, vegan Parmesan, and fresh basil.
Makes 6 to 8 servings
You can also use store-bought polenta for this recipe—just follow the package directions before making the marinara sauce. In the morning, you can fry up any leftover polenta and top with maple syrup for breakfast. Yum!
Respond