Homemade Mock Meatloaf
Written by
April 11, 2011
|
Too much meat or too much filler can ruin a meatloaf, but this vegan version gets the balance just right.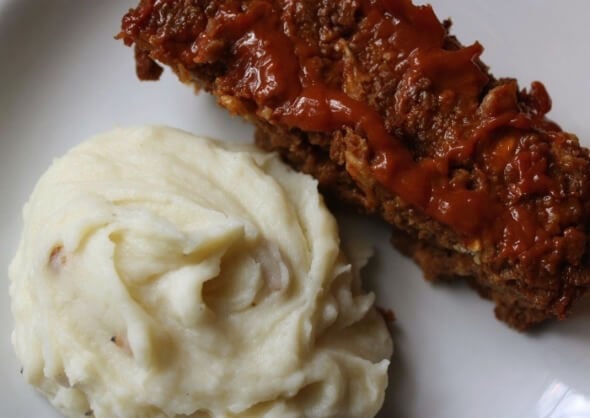 The base of the recipe consists of a combination of vegan beef crumbles (any brand will work), oats, bread crumbs, and a mix of liquid and spices. It may be tempting to skip the Worcestershire sauce if you don't already have a vegan version on hand, but don't do it—the sauce adds a savory richness that cannot be achieved with other ingredients. Finding vegan Worcestershire sauce is easy anyway, and several grocery-store brands are accidentally vegan. Just be sure to read the label and leave anything that says "anchovies" on the shelf.
Enjoy!
Mock Meatloaf
Loaf ingredients
2 14-oz. packages of vegan beef crumbles, defrosted
1/4 cup oats
1/4 cup bread crumbs
3 Tbsp. ketchup
1 tsp. vegan Worcestershire sauce
1 cup diced onions
4 cloves garlic, minced
1 tsp. minced jalapeño
1 tsp. garlic powder
1/2 tsp. salt
1/2 tsp. pepper
Sauce ingredients
1/2 cup ketchup
1 Tbsp. brown sugar
1/2 tsp. vegan Worcestershire sauce
Preheat your oven to 375°F.
In a large mixing bowl, stir all the loaf ingredients until well combined.
Add the mixture to a greased 7-inch loaf pan, cover with aluminum foil, and cook for 30 minutes.
In a small mixing bowl, combine all the sauce ingredients.
Remove the loaf from the oven, uncover, top with the prepared sauce, and cook for an additional 30 minutes.
Makes 8 servings
Respond
In This Section