Homemade Chocolate Spice Ice Cream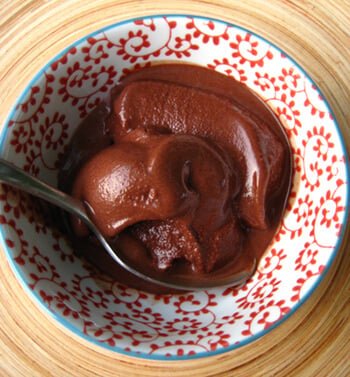 A goodbye-to-summer barbecue wouldn't be complete without a scoop of cold soy ice cream. The bowl I dug into yesterday at a friend's house was cold and sweet but also had a surprising finish that caught me off guard—spice.
The homemade ice cream was created using a combination of soy milk, tofu, sweeteners, and cayenne pepper, which were blended and then cooled using an ice-cream maker. The small amount of cayenne went a long way, so if you're not a fan of too much heat, use less.
And remember, if you do go for the full amount of spice and your mouth feels like it's on fire, don't reach for another bite to cool you off. I learned that the hard way.
Enjoy!
Homemade Chocolate Spice Ice Cream
3 boxes silken tofu (chocolate, if available)
2 1/4 cups chocolate soy milk
3 Tbsp. olive oil
1 1/2 cups cocoa
1 cup brown rice syrup
6 tsp. vanilla
3/4 tsp. cayenne pepper (or to taste)
1/6 cup confectioner's sugar
•Blend all the ingredients together in a blender or food processor.
•Freeze in an ice-cream maker according to directions.
Makes 10 cups
Respond