Holiday Time-Saver: Vegan Baking Mixes!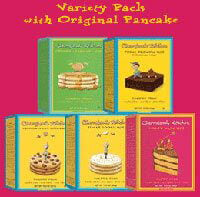 Can you smell the cookies and cakes baking in your oven? If not, then get baking! For me, the holidays are synonymous with baking, but if you don't have the time or don't know where to start, don't worry. There are vegan baking mixes to help you, and they're available at most grocery stores nationwide—you just have to know what you're looking for. Here's a quick rundown of some of my favorites:
Cherrybrook Kitchen: This company offers a variety of all-natural baking mixes that are peanut-, egg-, dairy-, and nut-free, including mixes for making chocolate or vanilla frosting, sugar cookies, chocolate chip cookies, fudge brownies, cakes, and pancakes. Yum! In addition to the tasty results from the mixes, Cherrybrook Kitchen provides adorable packaging and sells its products in major grocery stores.
Duncan Hines Wild Maine Blueberry Muffin Mix: Start Christmas morning off right with fresh blueberry muffins. I've been told that these muffins couldn't be easier—just add egg replacer and soy milk and you're left with surprisingly delicious muffins. Tracy, known to only make "hamburger" pizza bagels, said, "If I can make them, anyone can!"
Hodgson Mill Whole Wheat Gingerbread Mix: This mix is an easy way to sneak a little whole wheat goodness into your holiday baking, especially when it's in the form of an adorable gingerbread man.

Respond