Hearts of Palm, Orange, and Avocado Salad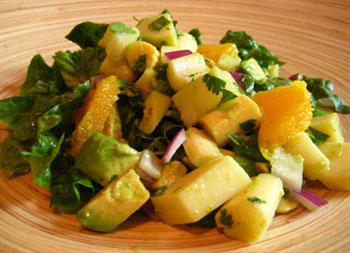 Since it's getting warm outside, I decided to pair the vinaigrette with a few of my favorite ingredients that make me think of spring and summer—hearts of palm and avocados. They are both commonly found in Caribbean cuisine, and that's exactly why I like eating them when it's warm out.
Hearts of palm are literally the hearts of some palm trees. Their flavor is very mild, and their texture is interesting and similar to a marinated artichoke heart. The first time I tried them was at a Cuban restaurant in L.A.; they were used as the filling in empanadas. For at least 10 minutes, I was convinced that the soft white filling was fish, but I was eventually convinced that it was in fact a vegetable that would quickly become one of my favorites.
You can try hearts of palm in fritters, salads, and empanadas, and they might even make a good taco filling. And I wonder how they would taste grilled…
Please let me know if you have any good hearts of palm recipes or prep methods that you'd like to share!
Hearts of Palm, Orange, and Avocado Salad
1 14 oz. can hearts of palm, drained
2 avocados
1/2 small red onion, diced
2 Tbsp. cilantro, chopped
1 orange, cut into wedges
Champagne-orange vinaigrette (or another light flavored dressing)
Salt and pepper, to taste
1 head lettuce (romaine, green leaf, or your favorite variety), washed and chopped
Dice the hearts of palm and avocados then add to a medium mixing bowl with the onion, cilantro, and orange wedges. Add 1/4 to 1/2 cup vinaigrette or another light citrus dressing and gently stir until just combined. Season with salt and pepper.
Serve over your favorite lettuce.
Makes 4 servings
Related Posts
Respond
In This Section