Give Your Grill a Passport to Great Tastes From Around the World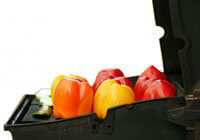 You may think of grilling as an all-American pastime, but it's actually a popular cooking method used in cuisines around the world. That's because grilling adds extra zest to foods. In addition to providing the smoky flavors that emanate from the coals, grilling caramelizes the natural sugars in the vegetables and makes them taste extra sweet. Just about anything that sprouts from the ground or grows on a tree can be suspended over coals, including corn on the cob, zucchini, potatoes, onions, pineapples, mangoes, and portobello mushrooms.
Make your next cookout an international adventure by experimenting with Asian-inspired tofu and soy-based mock meats. Some brands to look for include Lightlife, Gardenburger, Yves Veggie Cuisine, and Boca, which can all be found in the frozen-food section of most grocery stores. Also, Worthington has a large selection of canned faux meat chunks that are perfect for making kebabs. They are pre-cooked, so you only need to heat them for a few minutes.
You can also add extra flavor to grilled foods by marinating them. Ideally, most foods should be marinated for at least three hours, but denser proteins like mock meats are best when marinated for up to 24 hours. Sealable plastic containers and bags allow you to "shake things up" without making a mess. If you're pressed for time, marinades can also be basted onto the veggies as they're cooking on the grill.
We've assembled a collection of recipes from around the globe that are bursting with flame-grilled goodness. No need to buy a plane ticket-you can savor flavors from Baja to Bangkok without ever leaving your backyard.
Fire-Up-the-Grill Fajitas
Juice of 2 limes (4 Tbsp.)
1 Tbsp. olive oil
1 clove garlic, minced
1 jalapeño pepper, seeded and minced (for extra heat, don't seed the pepper before mincing it)
2 Tbsp. minced fresh cilantro
2 tsp. chili powder
1/4 tsp. cayenne pepper (or more if you can stand it)
1 lb. extra-firm tofu, cut into 1-inch strips
2 ears fresh corn
1 large red onion
1 red bell pepper, cut into 1-inch squares
1 green bell pepper, cut into 1-inch squares
12 cherry tomatoes
4 large flour or corn tortillas
Guacamole
Put the lime juice, olive oil, garlic, jalapeño pepper, cilantro, chili powder, and cayenne pepper in a jar with a tight-fitting lid and shake well. Put the tofu in a shallow pan, add the lime juice mixture and marinate in the refrigerator, stirring occasionally, for several hours.
Meanwhile, remove the husks from the corn and soak in cold water for 1 hour. Drain and wrap in aluminum foil. Grill for 20 to 30 minutes, turning often, until lightly charred. Cut the corn kernels off the cob.
Parboil the onion and cut into quarters. Thread the onion, bell peppers, and tomatoes onto skewers and brush with some of the lime marinade. Grill, turning often, until lightly charred.
Place the tofu on the grill, cover with a lid or aluminum foil and cook, basting occasionally with the marinade until the tofu is light brown.
Heat each tortilla briefly on the grill. Divide the vegetables and tofu equally among the tortillas and then roll them up fajita-style. Serve with guacamole.
Makes 4 servings
Grilled Tofu With Tamarind Glaze
2 pkg. extra-firm tofu
Salt and pepper, to taste
2 Tbsp. nonhydrogenated margarine
2 shallots, minced
2 cloves garlic, minced
3 tomatoes, chopped
1/4 cup ketchup
1/4 cup water
2 Tbsp. Dijon mustard
2 Tbsp. dark brown sugar
3 Tbsp. brown rice syrup or molasses
2 Tbsp. tamarind concentrate
1 tsp. cayenne
1 Tbsp. ancho chili powder
1 Tbsp. paprika
1 Tbsp. soy sauce
Cut each block of tofu into 4 slabs, season with salt and pepper, and set aside.
Heat the margarine in a large saucepan over medium-high heat. Add the shallots and garlic and saut for 2 minutes. Add the rest of the ingredients except the tofu and cook for 15 minutes.
Place the mixture in the blender and blend until smooth. Return the mixture to the saucepan and cook an additional 15 minutes.
Let the mixture cool and pour over the tofu. Marinate in the refrigerator for at least 2 hours.
Heat the grill and cook each side of the tofu until you have some nice-looking grill marks. While grilling, reheat the marinade in a sauce pan. Remove the tofu from the grill, brush each side with the tamarind sauce and serve immediately.
Makes 4 servings
Tandoori "Chicken" Kebabs
1 small onion, quartered
1/2 cup tomato sauce
1/2 cup plain nondairy yogurt (try White Wave's Silk)
1 tsp. fresh ginger, chopped
2 cloves garlic
2 tsp. coriander powder
1/2 tsp. cayenne pepper
2 whole cloves
1 tsp. cumin seeds
4 cardamom pods
1 tsp. salt
1 tsp. garam masala
1-2 drops red food coloring
1 lb. faux chicken, cut or torn into chunks
2 cups vegetables of your choice, diced for grilling (try sweet onions, cherry tomatoes, zucchini, green peppers, and mushrooms)
Preheat the grill.
Place all the ingredients except the faux chicken and the vegetables for grilling into a blender or food processor and blend to a smooth paste. Pour the paste into a bowl or Tupperware container, add the faux chicken pieces and vegetables, cover and shake to coat.
Make kebabs by skewering the "chicken" and vegetables. Place on the grill and cook until browned. Serve alone or with basmati rice and lemon wedges.
Makes 4 servings
Grilled 'Chicken' With 'Honey' Lime and Chipotle Sauce
1/4 cup fresh lime juice
2 Tbsp. Just-Like-Honey (available at www.Suzannes-Specialties.com)
4 cloves garlic, peeled and chopped
1 serrano chile or jalapeño pepper, minced
1 chipotle chile, in adobo
Pepper, to taste
1/4 tsp. cornstarch
1 Tbsp. cilantro, minced
1 lb. mock chicken
Preheat the grill.
In a food processor or blender, pure lime juice, "honey," garlic, serrano chile or jalapeño pepper, chipotle chili, pepper, and cornstarch.
Transfer the mixture to a medium-sized sauce pan and boil until slightly thickened, about 1 minute. Stir in the cilantro.
Brush the "chicken" lightly with the glaze.
Grill for 3 to 4 minutes on each side, turning once. Just before removing the "chicken" from the grill, baste with the remaining glaze.
Remove from the grill and serve.
Makes 4 servings
Grilled Pineapple
1 1/2 Tbsp. Just-Like-Honey (available at www.Suzannes-Specialties.com)
2 Tbsp. dark rum
1 tsp. lemon juice
4 slices fresh pineapple
1 cup flaked coconut
Combine the "honey," rum, and lemon juice in a nonporous glass dish or bowl. Add the pineapple and coat well with the marinade mixture. Cover the dish and marinate in the refrigerator for 1 hour.
Preheat the grill to medium heat and lightly oil the grate.
Remove the pineapple from the dish or bowl and press the coconut onto the pineapple wedges. Place the pineapple directly onto the rack or place in a basket and grill for about 10 minutes, turning, until hot and caramelized.
Makes 6 servings
Bowtie Surprise With Grilled Garden Veggies
2 cups cooked red beans
2 Tbsp. olive oil, plus more for brushing vegetables
2 Tbsp. apple cider vinegar
1/2 lb. bowtie pasta
4 Tbsp. chopped fresh parsley
Salt and pepper, to taste
Italian vinaigrette dressing
1 small onion
3 large tomatoes
2 large zucchini
3 Tbsp. chopped fresh basil
Mix the beans, olive oil, and vinegar and refrigerate for several hours or overnight.
Cook the pasta, drain, and rinse until cool. Toss the pasta with the bean mixture. Stir in the parsley, salt, pepper, and enough vinaigrette to moisten. Refrigerate until needed.
Parboil the onion. Cut the onion and tomatoes into quarters and cut the zucchini into 1-inch chunks. Brush the vegetables with olive oil and place on skewers. Grill, turning often, until lightly charred. Chop the vegetables and toss into the pasta salad.
Add the basil and serve.
Makes 6 servings
Respond