My Grandmother's Planchos
Written by
August 20, 2013
|
This is one of my favorite dishes; this is my beloved grandmother's recipe. She cooks with lots of love and flavor. Do you love plantains? Do you love nachos? If the answer is yes, then you will be happy to know that these two scrumptious dishes have been combined to form one perfect mouthwatering dish: planchos.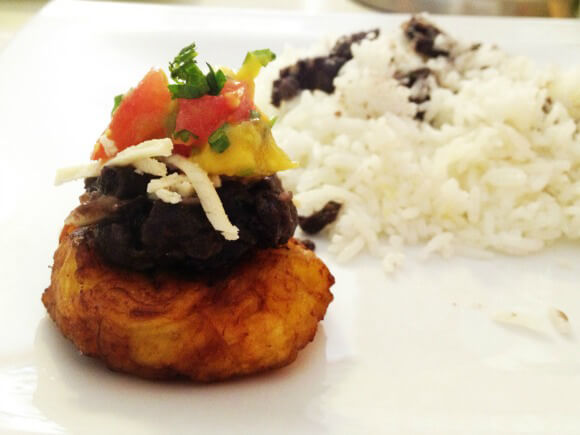 Planchos
1 15-oz. can black beans
1 clove garlic, chopped
1 1/2 small red onions, chopped
Oil, for frying
4–6 large plantains, peeled and cut into 1/4-inch rounds
2 medium avocados, peeled and pitted
1 1/2 tsp. salt
1 tsp. lemon juice
1 small tomato, sliced Cilantro, for garnish (optional)
Vegan cheese, for garnish (optional)
• Heat the beans in a small frying pan on low heat, stirring every 3 to 5 minutes.
• Add the garlic and onions and stir for 10 to 15 minutes. Transfer to a serving dish.
• Heat 1/4 inch of oil in a heavy frying pan over medium heat. Working in batches, fry the plantains for 1 1/2 minutes on one side, then flip and cook for 1 minute on the other side. Remove from the pan and place on paper towels. Sprinkle lightly with sea salt.
• Mash the avocados in a small bowl. Add the lemon juice and mix well.
• To serve, top the plantains with the beans, followed by the avocado.
• Garnish with the tomato, cilantro, and vegan cheese. Eat and be delighted.
Makes 10-12 servings.
Related Posts
Respond
In This Section