Garlicky Goodness Alfredo
Written by
October 3, 2007
|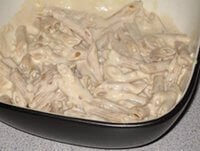 There are literally hundreds of types of garlic out there, from purple stripes and silverskins to artichokes—the type most commonly found in your local grocery store. Each has its own unique flavor and qualities, and my taste buds wish they could sample them all.
I am definitely one of those people who sees nothing wrong with letting the flavor of garlic dominate a dish. I often use so much raw garlic that I feel like a walking vampire repellent—you can call me Buffy II.
Every once in a while, I like to infuse my love of garlic with my love of good ol' fashioned comfort food, and a big bowl of creamy garlic Alfredo pasta fits the bill perfectly.
If you can find it, I recommend using a variety of garlic with a higher level of pungency, such as Chinese purple, to add even more heat to this spicy meal. The richness of the MimicCreme—a new vegan cream that can be used in place of soy milk—in this recipe will balance out the kick of the garlic nicely. Toss the Alfredo sauce with your favorite type of pasta, and enjoy the creamy, pungent, vampire-scaring, comforting goodness.
Garlic Alfredo
Extra virgin olive oil for sautéing the shallots and garlic
1 Tbsp. chopped shallots
1 Tbsp. minced garlic
1/4 cup dry white wine
1 1/2 cups unsweetened MimicCreme
Salt and black pepper, to taste
Heat the olive oil over medium heat in a small saucepan. Sauté the shallots and garlic until softened.
Add the white wine and reduce until approximately 2 Tbsp. of the liquid is left. Add the MimicCreme, lower the heat, and reduce by 1/3. Season with the salt and pepper.
Related Posts
Respond