What's in a Vegan's Freezer?
The following article was written by Keegan Baur.
A vegan friend of mine recently recounted a story to me: Before a date, she'd invited her new beau into her apartment for the first time, and he immediately went straight to her fridge and freezer to see what was inside! Ah, the age-old question posed by meat-eaters to vegans: What do vegans eat? Those of us who don't eat meat know that going vegan often opens up a world of possibilities and makes us more adventurous in the kitchen. And, of course, there are always mouthwatering faux meats, like delicious Gardein products. Take a gander at these vegans' freezers: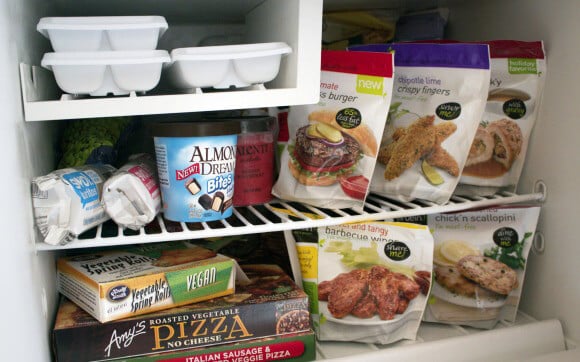 After hearing my friend's story, I examined the contents of my own freezer and realized that Gardein is a very important staple in the "frozen foods section," chez moi. My two favorite products are the Ultimate Beefless Burger and the Chick'n Scallopini. I enjoy eating one of the burgers for lunch at the office and having the "chicken" for dinner with pasta and either homemade marinara sauce or pesto. Both of these options are so delicious that they make me feel like I'm eating food prepared in a restaurant—yet they take mere minutes to cook and serve!
Have you tried Gardein products before? If you live in the U.S. or Canada, use Gardein's handy-dandy store locator to find out where to buy them. And if you "like" Gardein on Facebook and follow the company on Twitter, you'll have access to exclusive coupons, irresistible recipes, and more.
Are Gardein products a staple of your vegan freezer? Tell us which product is your favorite and how you like to serve it!
Respond