50 Vegan Recipes for Football Season (Photos + Videos)
Are you ready for some football … food?! Participate in all the fun football festivities with these vegan game-day appetizers and treats.
Take a look at the photos below and click through for recipes:
Dips
This recipe, adapted from Eat, Drink & Be Vegan, features French bread, artichoke hearts, spinach, and potatoes. Better make a double batch, because it's sure to be a party favorite.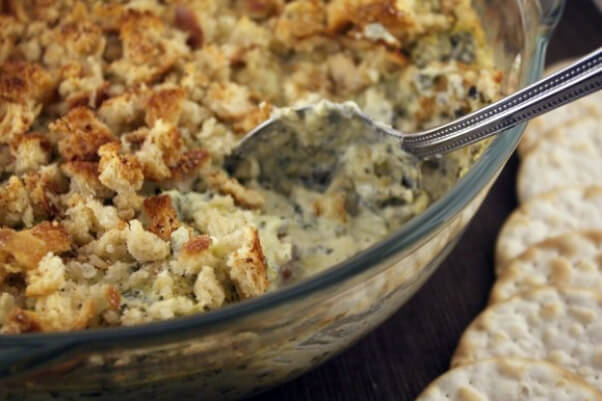 Herbivoracious insists that you use ripe Hass avocados because "[y]ou can't make good guacamole from bad avocados." Now that's a rule to live by.
Spinach dip is a must-have for any football party. Unexpected ingredients like water chestnuts, cashews, and tofu make this Spork Foods recipe extra special. Extra points if you get bread that's shaped like a football—like we did!
What self-respecting football party could be complete without black bean dip? The Vegan 8 is a master of simplicity with this and all other recipes, which use eight ingredients or less.
Tabasco sauce is the secret ingredient in this recipe from Oh She Glows. The beauty of hummus is that you can change the ingredient ratios to suit your taste, so it's a real winner no matter how spicy you like it.
This delicious recipe is a simple concoction of garbanzo beans, peanut butter, agave nectar, and chocolate chips. We can't think of a better dish to round off your party. Add vegan cookies for dipping.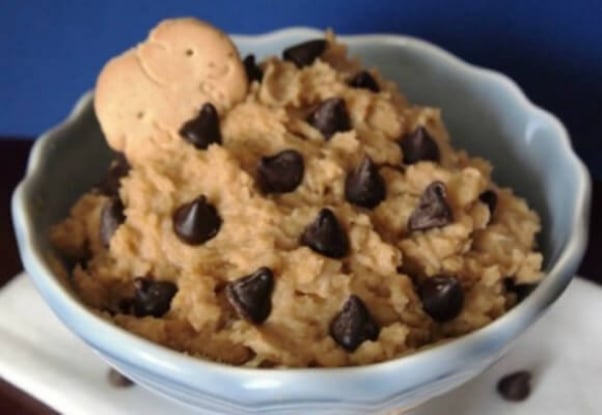 Start the football fiesta off right with this Namely Marly recipe for classic seven-layer dip loaded with vegan meat crumbles, black beans, vegan sour cream, vegan cheese, guacamole, olives, and tomatoes.
Handhelds
Let's vow to cook with more jackfruit this year! Vegan Yoga Life uses the canned variety, with some garlic, onion, and spices added in. It's the perfect recipe for an epic taco.
Gardein says that its golden fishless filets are the best catch ever, and we couldn't agree more. Add mango slaw to make this dish a tropical treat.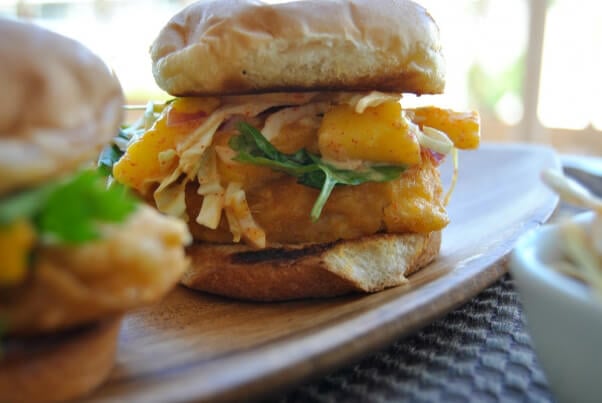 Who doesn't enjoy hearty dishes like hot dogs when watching football? Namely Marly creates the Holy Grail of vegan hot dog recipes. Her arsenal includes a Vegan Totcho Dog and a Vegan Mac and Cheese Dog. We love them all.
Forget football: A platter of these Vietnamese sandwiches—packed with tofu, jalapeños, and cucumbers—will score major points at any party.
You can prepare a large number of these spirals in just a few minutes. Healthy Happy Life says that some of the best ingredients include roasted red pepper spread, baby spinach, edamame, and avocado. Yes, please!
Cadry's Kitchen knows that people get really hungry during the game, so come prepared with these double-decker sliders. Try juicy Beyond Meat or Gardein patties.
Chow Vegan offers a kind of choose-your-own-adventure recipe with vegan pockets. You can fill them with pizza sauce, seitan sausage, and vegan cheese for an Italian pocket—or try sautéed spinach, mushrooms, and vegan cheese for a Mediterranean twist. Imagine the possibilities!
Healthy Happy Life makes these sammies look gorgeous with a panini press, but you can also fry them up in a pan. Either way, you're on your way to grilled "cheese" euphoria.
Also known as PETA's Cruelty-Free Chick-fil-A Copy-Cat Recipe, this sandwich is a favorite among staffers. (We recommend Gardein Chick'n Scallopini.)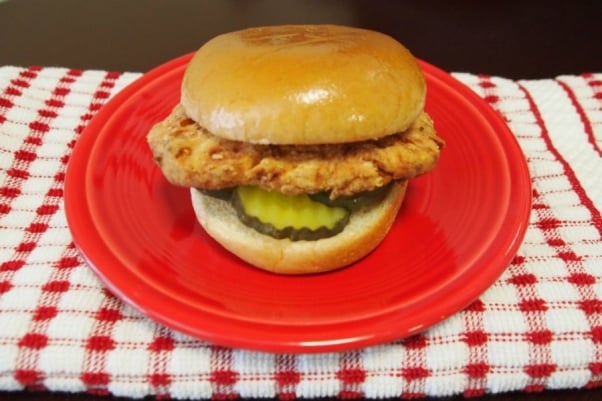 Shareables
You should probably double this batch as well, because Hell Yeah It's Vegan has perfected the vegan corndog-on-a-stick—so hell yeah, everyone's gonna love 'em!
This casserole, courtesy of Oh She Glows, features a Mexican-inspired medley of spiral pasta, enchilada sauce, beans, tortilla chips, Daiya cheddar-style shreds, and more. And the more cayenne pepper you add, the "naughtier" it gets.
These bites are party-perfect, as they take only 30 minutes to make and provide up to four servings. A gluten-free version can be made with a mix of gluten-free flour and crushed almonds.
Fettle Vegan's onion rings use chickpea flour, making them gluten-free. Seasoned with paprika and pepper—and fried to perfection in coconut oil—these are as healthy and yummy as any onion rings can be.
Here's another recipe that uses vegan dogs in a creative way. There are only five ingredients in these delicious savory muffins.
Did you know that Bac-Os are vegan? We love these tater skins, featuring this accidentally vegan food.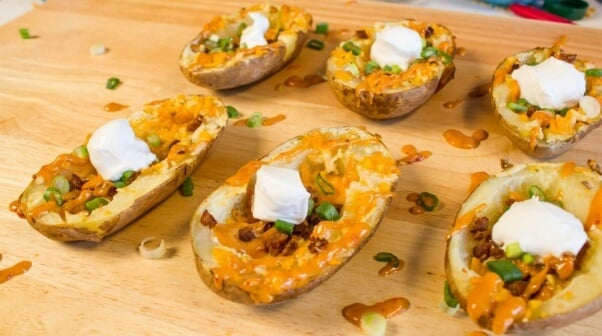 Eggs are not all they're cracked up to be. They're terrible—for animals and your health. Check out these vegan deviled eggs by Leafy Greens and Me that are sure to pack a serious punch of flavor, minus the cholesterol and cruelty.
Deliciously versatile, with just enough spice, our bite-sized pieces of cauliflower offer a tastier, healthier, and kinder experience than eating chicken wings.
Epicurean Vegan knows that making this classic appetizer is fun and simple. If you want to go for a healthier version, try Sandra Vungi's vegan Carrots in a Blanket.
You should probably have at least one "healthy" option at your football party. This recipe is just that, featuring Frito corn chips, avocado, black beans, and vegan chicken (we recommend Beyond Meat's Feisty Buffalo Poppers).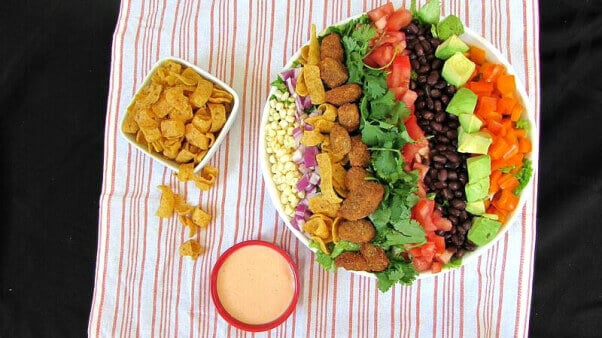 Keepin' It Kind hits one out of the ballpark (or kicks one straight through the uprights) with this pizza, smothered with buffalo cauliflower wings and vegan blue cheese spread. It's a vegan masterpiece if you ask us.
By using vegan ingredients rather than animal products and by baking instead of frying, we can eliminate the guilt and layer on the flavor with these tasty taquitos (aka flautas).
Cheesy, smoky, and a bit spicy, these vegan jalapeño poppers are the perfect addition to any appetizer spread.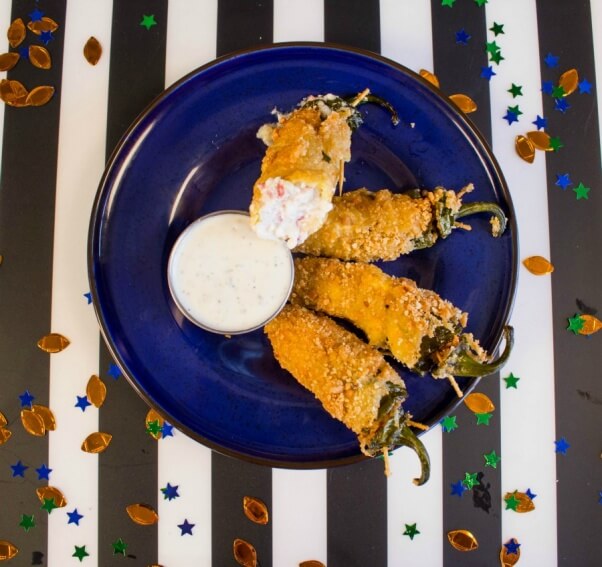 Little mushroom caps runneth over with vegan cream cheese, vegan bacon bits, and garlic in this fantastic recipe that's perfect for snacking.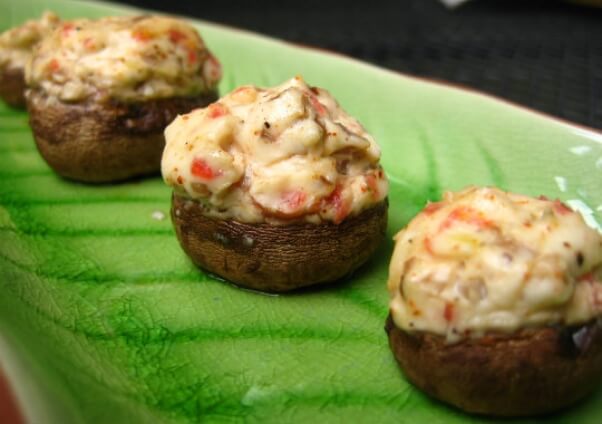 Keepin' It Kind said it best when describing this appetizer: "We're talking about balls of mac n' cheese, covered in a buffalo sauce coating and cooked so that the outside is crispy and the inside is gooey and cheesy." Yum!
Jalapeños dipped in breadcrumbs, filled with vegan cream cheese, and baked—there's nothing but vegan divinity in this recipe, courtesy of Vegan Richa.
My Darling Vegan adds a wasabi "kick" to your football game with these crunchy potato chips. Plus, your friends will be impressed that you made potato chips from scratch!
You've never had a pretzel like this—you're three ingredients away from vegan snack heaven.
These sweet and spicy skins from Gluten Free Vegan Pantry are packed with black beans, corn, jalapeño peppers, and onions—then topped with an awesome avocado drizzle for an extra burst of flavor.
We use Follow Your Heart's vegan mozzarella block for this simple, tasty appetizer. Omega-filled flax seeds and bread crumbs make up the crispy outer layer. Fry 'em up, and you're good to go.
The words "refreshing" and "filling" rarely go together when describing food, but with our tasty cold pasta salad—filled with olives, cauliflower, bell peppers, and more—you can have the best of both worlds.
These vegan chicken nuggets made of textured vegetable protein (TVP) and vital wheat gluten are super-tasty—and of course infinitely better for you than the real thing. Happy dipping!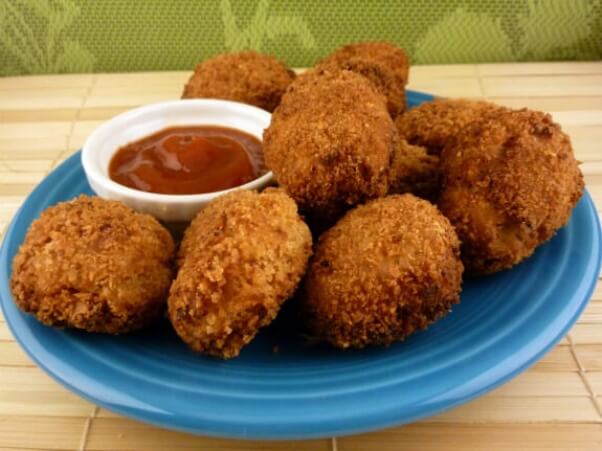 Just toss your kale in olive oil and seasonings and then bake to form crispy chips that taste indulgent. They're so easy!
Nachos are a game-day classic. Try our recipe, loaded with the best fixings: black beans, corn, tomatoes, cilantro, black olives, avocado, cashew cheese, and more.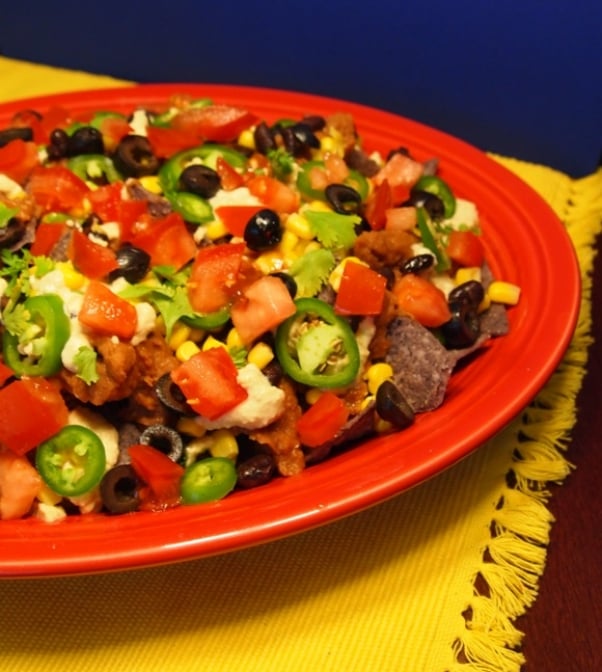 This mouthwatering recipe by Minimalist Baker features rich, velvety cashew cheese and is topped with crushed toasted tortilla chips and cilantro. Simple, straight-to-the-point mac 'n' "cheese," just the way we like it.
We love this hearty chili, courtesy of I Love Vegan. And a big batch will feed the whole team.
Adjust this pizza recipe to your taste, so it will be perfect for you. Olives, vegan bacon, mushrooms, bell peppers, and vegan parmesan all make scrumptious toppings.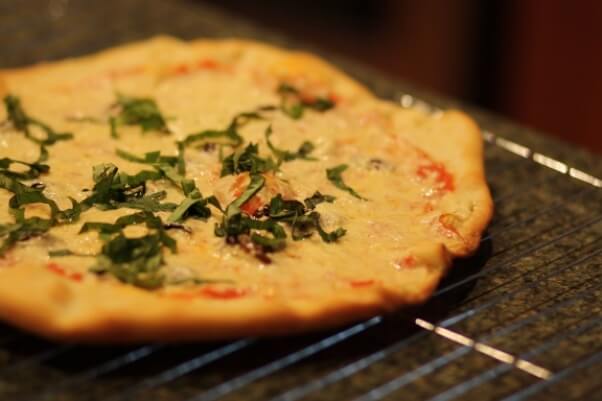 We love Peppered Tofurky Deli Slices and Follow Your Heart American Style Slices for this recipe, but feel free to try any of the many vegan cheese and meatless meat options available to you.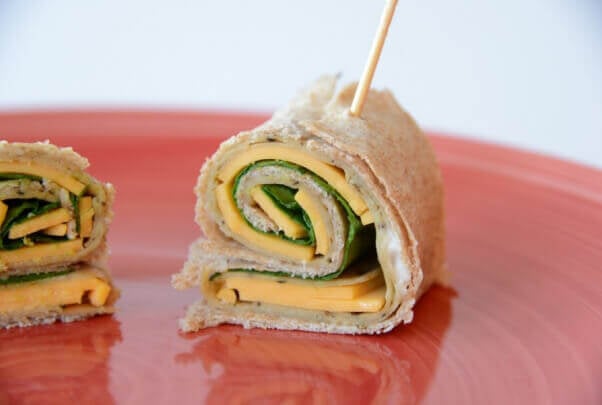 Desserts
Not only did Texan Erin create adorable vegan football truffles, she also made a shredded coconut grass for them to sit on. These delectable cupcakes are almost too cute to eat. Almost …
Do you love sandwich cookies? Do you love chocolate chip cookies? This is the recipe for you. Love like this is a beautiful thing, isn't it?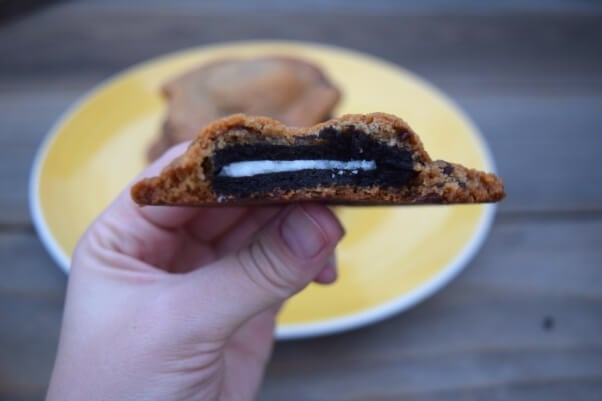 One, two, three, four … we love vegan dessert, and we want more! The First Year uses Silk Dark Chocolate Almondmilk as a base for this pudding, but the real secret is that the white stitches are painted on the outside of the glasses.
We adore Oh She Glows' gourmet vegan version of this classic treat. We bet you that you may already have a few of the ingredients in your pantry, such as vanilla extract, chocolate chips, and Earth Balance buttery spread.
These sugar cookies, courtesy of Fruit of Adventure, can be customized to fit the team that you're rooting for. So, think blue or orange. Brilliant.
These chocolate-covered strawberries are made with only three ingredients. Ciao Mama recommends that you go easy with the white chocolate so that your laces aren't too thick.
Now that we've provided you with loads of vegan recipe options for your football party, may the best team win!
Respond