Football Sunday's 'Man Meal'
Written by
September 10, 2007
|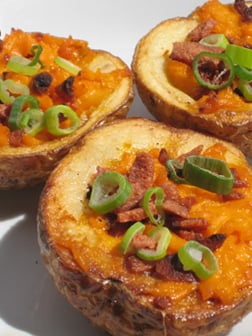 I could feel myself gaining weight as the vegetable oil was heating on my stove Sunday afternoon. Not one bit of food had yet touched my lips, but I could already feel it on my thighs.
It was the first Sunday of the football season, so we had to kick it off the right way in my house—bad food and drinks all day, along with about 10 hours of football. Oh, good times.
The bad foods—and by "bad" I mean delicious but dangerously fattening—of choice were potato skins and nachos. The deep-fried skins were topped with Follow Your Heart "cheddar cheese," soy bacon bits, and scallions. The nachos were made from homemade deep-fried corn tortillas, more Follow Your Heart "cheddar cheese," refried beans, jalapeños, and guacamole.
The deep-fried feast made me feel like I was at any neighborhood sports bar, rooting on my boyfriend's beloved Browns. They didn't win this week, and neither did my Saints, but our football-obsessed Sunday was still fun anyway—and there is always next week.
Game-Day Potato Skins
6 potatoes
1 cup vegetable oil
8 oz. shredded vegan cheddar cheese (try Follow Your Heart brand)
1/8 cup soy bacon bits (try Bac-Os)
4 Tbsp. thinly sliced scallions
Soy sour cream (optional)
Preheat the oven to 375°F. Lightly grease a 9×13-inch baking pan.
Pierce the potatoes with a fork and microwave on high until soft, approximately 10 to 12 minutes.
Remove from the microwave and cut in half vertically. Scoop out the inside, leaving a 1/4-inch-thick shell.
Heat the oil to 365°F in a deep fryer or a deep saucepan. Fry the potato shells for 5 minutes. Remove and drain on paper towels.
Fill the potato shells with the "cheese" and soy bacon bits. Arrange on the prepared baking pan and bake for 10 to 15 minutes, or until the "cheese" has melted.
Top with the sliced scallions and the soy sour cream, if desired.
Makes 6 servings
Respond
In This Section