Finger Foods for Your New Year's Eve Bash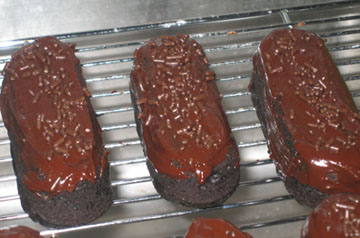 To ring in the new year, I will most likely be on a dance floor surrounded by friends and screaming out my countdown to midnight. But that will only be after I have an early evening cocktail party that focuses on finger foods. I have to do something somewhat sophisticated and adult-like before getting crazy later in the night.
A New Year's Eve party is the perfect time to put out a spread of indulgent appetizers, mini entrées, and desserts all at once. There are no hard rules on the rights and wrongs of what to serve on this holiday, so get crazy with it!
Chow.com offers up ideas on creating a Japanese spread focused on mochi or starters such as curried carrot soup served in cute shot glasses. This is also the time to splurge on the bubbly and on specialty cocktails, such as Food Network's champagne punch. You can try the Triple Threat Twinkies or Mushrooms Rockefeller below, or be creative and create your own finger foods.
The point is to be creative and celebrate the way you want. After an often stressful holiday season jammed full of traditions, it's necessary to let your hair down, celebrate, eat, and drink your way.
Triple Threat Twinkies
For the Cake:
1 1/2 cups all-purpose flour
1 tsp. baking powder
4 Tbsp. dark chocolate cocoa powder
1/2 tsp. salt
3 Tbsp. egg replacer
1/2 cup margarine, at room temperature
1 cup sugar
Scant 1 cup vanilla soy milk
•Whisk together the flour, baking powder, cocoa powder, salt, and egg replacer.
•In a separate bowl, beat together the margarine and sugar until light and fluffy. Gradually add the soy milk and dry mixture until combined.
•Pour into a prepared Twinkie mold and bake in a preheated 350°F oven for 15 to 20 minutes, or until a toothpick inserted into the middle of the cakes comes out clean. Remove from the oven and let cool in the pan for 15 minutes. Remove from the pan and cool on a wire rack.
For the Filling:
1/2 cup vegan white chocolate chips
1 Tbsp. soy milk
1 cup confectioners' sugar
•Melt the chips in a double boiler. Whip in the remaining ingredients until smooth.
For the Chocolate Coating:
1/2 cup bittersweet chocolate
1 tsp. soy milk
•Melt the ingredients in a double boiler until smooth.
To Assemble:
Chocolate jimmies (optional)
•Using a pastry bag with a thin tip, pipe the filling into the bottom of the cakes. This should be done in 3 locations throughout the bottom to make sure the frosting is uniform.
•Frost the tops of the cakes with the chocolate coating and top with the jimmies. Let cool.
Makes 8 servings
Mushrooms Rockefeller
1 tsp. extra virgin olive oil
2 Tbsp. minced white onion
6 baby portobello or large button mushrooms, cleaned, stemmed, and minced
1/4 cup frozen spinach, thawed
1 tsp. lemon juice
1/2 tsp. lemon zest
1 1/2 Tbsp. pimiento
Salt and pepper, to taste
•Lightly grease an 8×10-inch pan. Preheat the oven to 375°F.
•In a skillet over medium heat, heat the olive oil. Sauté the onion and mushrooms until soft. Add the spinach, lemon juice and zest, and pimiento and cook for another 2 minutes. Remove from the heat.
•Stuff the mushrooms with the spinach filling and bake for 15 minutes, or until the mushrooms are cooked.
Respond