Fill Up on Fiber With Lentil-Quinoa Salad
The following article was written by Lauren Gordon, PETA's celebrity marketing coordinator and a certified holistic health counselor.
It should come as no surprise that consumers want more these days. I'm not talking about super-sized orders or a plate of food that could feed a small army. Consumers used to seek out foods that contained fewer nutritional "undesirables" like fat, sugar, calories, and salt. Now shoppers want foods filled with more beneficial ingredients. Recent buying behavior shows a rise in consumer demand for products containing healthier components, with fiber being the most sought-after element, followed by whole grains and protein.
The American Dietetic Association recommends that women consume at least 25 grams of fiber each day and men at least 38 grams a day. The average American's fiber intake is about half that. A high-fiber diet can help lower cholesterol, stabilize blood sugar levels, aid in digestion, and prevent heart disease. Vegetables, fruits, beans, and whole grains are all excellent sources of fiber, whereas meat, eggs, and dairy products are not. A survey from the National Fiber Council showed that 62 percent of people mistakenly believed that meat is a source of fiber—but meat contains no fiber.
This simple recipe for a delicious Lentil-Quinoa Salad is full of all the things diners are looking for: fiber, whole grains, and protein! Quinoa is a fiber-rich whole grain as well as a complete protein, which means it contains all nine essential amino acids. Lentils are another great source of fiber and protein. This heart-healthy legume also contains folate and magnesium.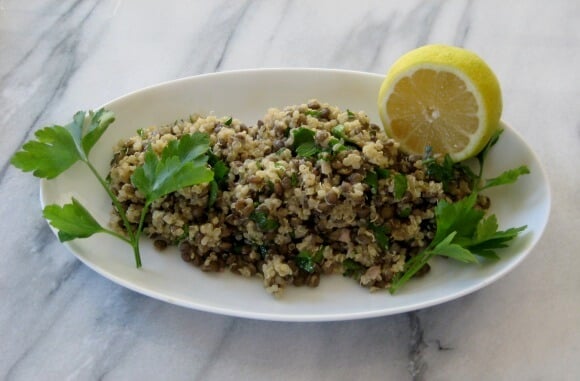 Lack of planning is one of the biggest detriments to eating healthfully. When consumers are hungry and must make last-minute decisions about what to eat, cravings and convenience often trump healthy options. This Lentil-Quinoa Salad is the antidote—make a large batch and keep the leftovers in the fridge for a few days. You'll have a healthy dish full of fiber, whole grains, and protein ready to eat when you are.
Lentil-Quinoa Salad
1 cup quinoa
5 cups water
1 cup green or red lentils
1/4 cup finely chopped shallot
2 Tbsp. Dijon mustard
Juice of 1/2 lemon
1/3 cup olive oil
Salt and pepper, to taste
1/4 cup chopped Italian parsley
Place the quinoa and 2 cups of water in a pot. Bring the water to a boil, then reduce the heat to a simmer and cover. Cook for 15 to 20 minutes, until quinoa is light and fluffy.
In a separate pot, bring 3 cups of water to a boil. Add the lentils. Bring the water back to a boil, then reduce the heat to a simmer and cover. (Green lentils usually take about 25 to 30 minutes to cook, while red ones require closer to 20 minutes.)
While the quinoa and lentils are cooking, prepare the dressing: Whisk together the shallot, mustard, and lemon juice. Add the oil slowly, whisking until emulsified. Season with the salt and pepper.
Mix the prepared quinoa and lentils with the chopped parsley in a large bowl.
Pour the dressing over the quinoa, lentil, and parsley mixture and mix well. Serve warm or cold.
Makes approximately 6 servings
Respond