Faux Shrimp and Grits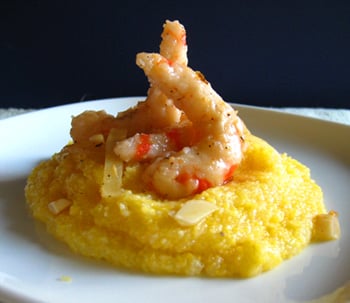 Clearly, I'm on a bit of a faux-meat kick. My last post featured faux pork, and today I had the pleasure of experimenting with faux shrimp. Usually when I find faux shrimp, they're used in Asian recipes, but I decided to use them in a simple Southern dish—"shrimp" and grits.
The ingredients in this dish are minimal, but the flavors definitely are not. The creamy grits make for a perfect treat on a cold day, and the faux shrimp add an unusual touch.
Enjoy!
Faux Shrimp and Grits
3 cups vegetable stock
3/4 cup yellow stone-ground grits
1/8 cup extra virgin olive oil
1 tsp. soy margarine
1 small onion, sliced
2 cloves garlic, minced
1 lb. faux shrimp
1/4 tsp. thyme
1/4 tsp. salt
1/8 tsp. white pepper
•In a medium saucepan, bring the stock to a boil. Stir in the grits and reduce the heat to low. Cook, stirring occasionally, until silky, about 10 minutes.
•Meanwhile, heat the olive oil and margarine in a skillet over medium heat. Sauté the onions until tender, then toss in the garlic and faux shrimp. Season with the thyme, salt, and pepper and cook for 4 to 5 minutes, or according to faux-shrimp package directions.
•Spoon the "shrimp" mixture over the grits and serve hot.
Makes 4 servings
Respond