Even Turkeys Can Be Thankful!
The following article was written by PETA intern Keegan Baur.
What better way is there to spend Turkey Day than with real, live turkeys?! OK, so maybe the event didn't take place on the official holiday, but on Saturday, November 20, Poplar Spring Animal Sanctuary held its annual cruelty-free Thanksgiving potluck.
This gorgeous sanctuary stretches across 400 acres on an idyllic plot of land in Poolesville, Maryland. It's a safe haven where farm animals and wildlife peacefully spend their days. Poplar Spring has a wide assortment of happy occupants, including horses, cows, pigs, goats, chickens, peacocks, and, of course, turkeys.
As the guests of honor at this event, the sanctuary's six turkeys feasted first while the crowd "oohed" and "aahed" and snapped photos. The turkeys dined on a mixture of tofu, grapes, lettuce, corn, and breadcrumbs while one of the sanctuary's owners, Dave Hoerauf, relayed each turkey's rescue story. For instance, last year, Hugo was found wandering through a neighborhood, attempting to follow people into their homes. Opal was saved one night from a slaughterhouse in Virginia, and Gertrude escaped from a cage behind a restaurant.
After the turkeys had gobbled their meal, the humans had the opportunity to overindulge on their own cruelty-free feast! Imagine the euphoria of standing before 20-something buffet-style tables covered end-to-end with meat-, dairy-, and egg-free deliciousness! Every attendee—more than 600 individuals—brought a dinner or dessert item to serve eight.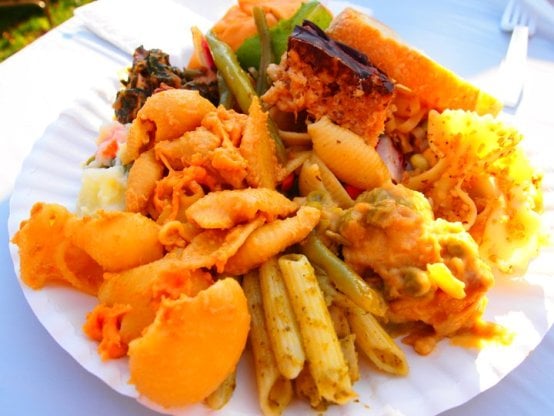 Afterward, with bellies full and morale high, everyone eagerly grabbed a pumpkin and rushed over to the pig pasture. Did you know that pigs enjoy dining on pumpkins? Because they most definitely do. Adults and children alike delighted in throwing their pumpkins over the fence, hearing the satisfying crack of the orange exterior, and watching pigs excitedly rush—I use that word loosely—over to the yummy new snack.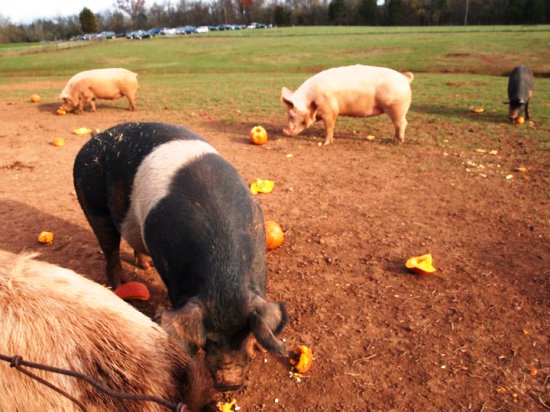 If you missed this awesome event, have no fear! Poplar Spring provides hour-long guided tours to individuals or groups. Simply contact the sanctuary to make an appointment. I'm sure the animals would be thrilled to see you! Also, be sure to mark your calendars for next year so that you, too, can celebrate Turkey Day with turkeys. Happy Thanksgiving, y'all!
Respond