Easy Vegan Pancakes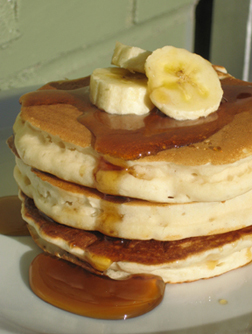 Life often delivers pleasant little surprises, and for me they often come in the form of food. I recently found a vegan breakfast bar at a local grocery store, complete with biscuits, gravy, and tofu scramble—I had to pinch myself to make sure I was awake. Other times, it happens when I find unexpectedly vegan items, such as the Trader Joe's candy cane Oreo-type cookies.
You can experience this "Oh my god, I can't believe that's vegan" joy—over and over again—by checking out the list of accidentally vegan foods. These are brands you recognize and items you see in almost every grocery store, and you probably just assumed that they had eggs, dairy, or something else in them.
One of the highlights for me was finding Bisquick on that list, because vegan pancakes can be kinda hard to come by in restaurants, and for some reason I can't seem to master making them from scratch.
My friend Joel, who happens to be obsessed with SMILES fries, says that I am "against processed foods," but it's more accurate to say that I don't like to eat them all the time. In moderation, they're just fine. And if you want foolproof pancakes, just like those from a local diner, then this is the perfect time.
Easy Pancakes
2 cups original Bisquick mix
1 cup soy milk
Egg replacer equivalent to 2 eggs (try Ener-G brand)•Stir together all the ingredients until blended.
•Pour 1/4 cupfuls onto a hot, greased griddle.
•Cook until the edges are dry. Flip, then cook until golden.
•Garnish with your favorite toppings.
Makes 10 small cakes
Respond