Easy Spring Salads
Spring and summer are the perfect time to load up on healthy salads. Sure, fresh produce is plentiful and there's that whole heat thing that keeps us from craving, oh, let's say, a stew, but I will fess up that just a teeny part of my motivation for leaning toward salads does come from a little thing called a swimsuit.
Getting in shape for the summer and swimsuit season is something I always strive for—and only sometimes accomplish. I find that having a few healthy salads in my menu rotation helps get me in shape faster, and variations of the chickpea salad below show up very often.
I broke out of the "salad must contain lettuce" mind-frame a long time ago, and now I like to center my salads around beans because they are both filling and healthy. You can try salads with chickpeas, black beans, kidney beans, or black-eyed peas—they're all delicious. However, it is important to remember that beans have way more calories than iceberg lettuce, so check out that nutritional information on the back of the can if you are trying to slim down. Also, remember that salad is no longer a health food if you top it with an entire bottle (or anywhere close to that amount) of vegan ranch dressing, so use it sparingly!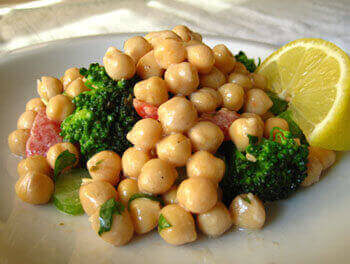 Chickpea Salad
Water for blanching
1 cup broccoli florets
1 15-oz. can chickpeas, drained
1 tomato, diced
1 stalk celery, sliced
1/4 cup vegan mayonnaise (try Vegenaise)
2 Tbsp. lemon juice
1 clove garlic, minced
1 Tbsp. minced fresh parsley
1 Tbsp. chopped onion
Salt and pepper, to taste
•Bring the water to a boil. Add the broccoli and cook for about 2 minutes, then transfer to a colander and immediately run under cold water to stop the cooking process.
•In a medium bowl, mix all the ingredients, except the salt and pepper, until just combined. Season with salt and pepper and chill until serving.
•Eat the salad on its own or serve over greens.
Makes 2 to 4 servings
Related Posts
Respond
In This Section