Easy Golden-Brown Brussels Sprouts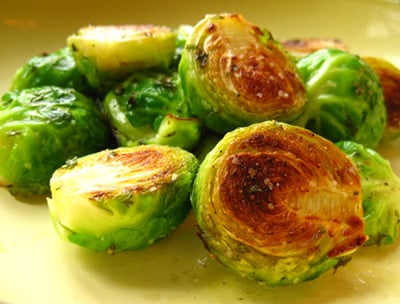 Brussels sprouts—two words that strike fear in the hearts of children around the world. Sure, the round little green vegetable can lack any redeeming quality if cooked improperly, but if done right, they are rich and flavorful. Thanks to Heidi at 101 Cookbooks, I've found the right way to cook them.
Before today, I'd only steamed Brussels sprouts, which I must admit was a huge mistake. I recently tried a new approach—cooking them in a pan over medium heat until the halved sprouts become golden brown—and it was as if I were eating a completely different vegetable.
Coating the Brussels sprouts with oil and then cooking them in a pan gives them a nice subtle crunch in some areas. It also enhances the flavor of the vegetable and makes them seem (dare I say it?) almost indulgent.
Check out my veganized version of Heidi's simple recipe below, and be sure to check out Heidi's site 101 Cookbooks. Enjoy!
Easy Golden-Brown Brussels Sprouts
24 Brussels sprouts
2 Tbsp. olive oil
Salt and pepper, to taste
•Trim the stems of the Brussels sprouts and remove the discolored outer leaves. Cut in half, from the stem to the top, and place into a medium bowl. Add 1 tablespoon of the oil and gently toss until coated.
•Heat the remaining tablespoon of oil in a large pan over medium heat. Place the Brussels sprouts in the pan flat side down, season with salt and pepper, cover and cook for about 5 minutes, or until just tender.
Flip the Brussels sprouts and cook them for 1 to 2 minutes. Season with additional salt and pepper, if desired, and serve hot.
Makes 4 servings
Respond