Drop That Burger! Who Said Vegetarians Can't Barbecue?
The following is adapted from an article by Priyanka Naik of ChefPriyanka.com.
Whoever said that vegetarians and vegans can't BBQ is in for a surprise! Here is a healthy, creative, delicious, and vegan Indian summertime recipe. Vegetable kebabs are part of contemporary Indian cuisine and are derived from "tandoori"-style foods: breads, veggies, and meats that are marinated and cooked in a tandoor oven, often without skewers. Well, this is the same concept, except the kebabs are cooked on a grill. So fire up those grills because you're going to feast on some goodness!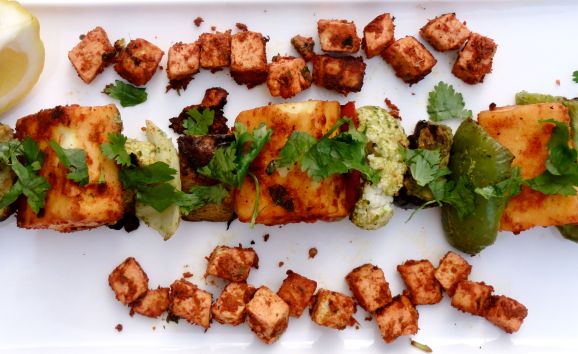 Hariyali Marinade
2-3 small green chilies, chopped
1/2 bunch cilantro, washed and finely chopped
1-inch piece of fresh ginger
2 cloves garlic, chopped
Salt
Coarse black pepper
1 tsp. cumin powder
1-2 Tbsp. water
Extra virgin olive oil
Juice of 1/2 lemon
1/4 cup plain soy yogurt
1/4 cup soy milk
Dash of sugar
Kebabs
1/2 Italian eggplant, diced into 1-inch cubes
2 red or green bell peppers, diced into 1-inch squares
1-2 large onions, cut into large chunks
1/4 cauliflower, cut into small florets
1-2 potatoes, parboiled and cut into 1-inch cubes
Additional vegetables, if desired, such as cherry tomatoes, zucchini, and mushrooms
Cooking spray and vegetable or olive oil for the grill
First, prepare the marinade: Place the chilies, cilantro, ginger, garlic, salt, pepper, cumin powder, and 1 tablespoonful of water in a blender. Blend on high until the spices are broken up. Turn the blender speed to low and slowly drizzle in some olive oil. Not too much—you don't want the olive oil to overpower the flavor of the spice mixture. Blend until smooth like paste. If it's too thick, add a touch more water and blend. It should be the consistency of chutney. Taste and add more salt, if necessary.
Pour the mixture into a large bowl and add lemon juice, soy yogurt, soy milk, and sugar. Mix until well combined, and correct the seasoning. The flavors should be very strong (almost overbearing to a non-Indian palate, because this needs to seep into the vegetables).
Add the chopped veggies and coat evenly. Cover with plastic wrap and refrigerate for a couple of hours or preferably overnight.
To Cook Kebabs on a Grill
Turn the grill on high. Place a large piece of aluminum foil over the cooking surface; spray with cooking spray and brush with a little oil. Place the vegetables on the foil and cook uncovered for a few minutes, flipping one or two times. Spray with cooking spray or brush with oil so they don't get dry. Pour any leftover marinade over the veggies. Cover with another piece of foil and close the cover on the grill. After a few minutes, check to see if the veggies are tender and charred. When they are, remove and serve with naan, pita, chapatti, or rolls with chutney and salad on the side.
To Cook Kebabs in an Oven
Preheat the oven to 400º to 450ºF. Spread the vegetables evenly on a baking sheet that has been lined with foil and lightly coated with cooking spray. Bake uncovered for about 10 minutes. Remove, spray vegetables, then flip and brush on any remaining marinade. Cover with foil and bake until tender.
Makes 4 servings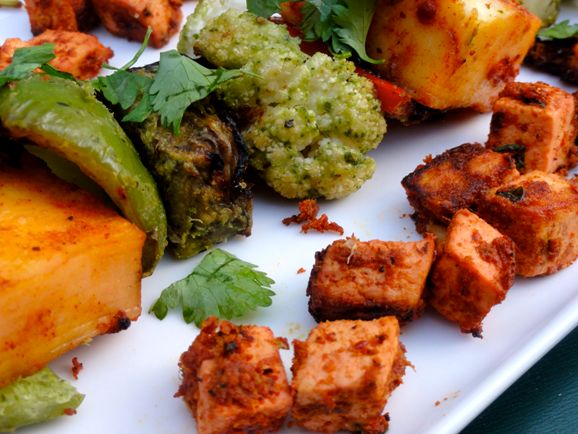 Respond