Curried Potatoes and Spinach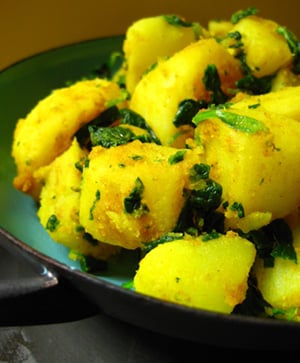 tPotatoes are one of those foods that go well with just about anything. Of course, they're delicious with American favorites like (soy) sour cream and melted (vegan) cheese. Or you can top them with a chunky, spicy salsa and pickled jalapeños for spuds with a kick. Potatoes are even delicious with curry and cumin for Indian flare.
The recipe below features curried potatoes that are made from a blend of cumin, turmeric, and curry powder. If the curry doesn't provide enough heat for you, throw in half a teaspoon of cayenne pepper. The just-cooked spinach in the dish provides the perfect touch of freshness needed to lighten up the heavy potatoes and intense spices. Enjoy!
Curried Potatoes and Spinach
2 lbs. new potatoes, cut into 1/4-inch-thick pieces
2 Tbsp. olive oil
2 Tbsp. cumin
2 tsp. turmeric
2 tsp. curry powder
2 cups fresh spinach leaves
Salt and pepper, to taste
•Place the potatoes in a large pot and fill with water. Bring to a boil over high heat and cook until just tender. Drain and set aside.
•Heat the olive oil in a sauté pan over medium-high heat. Sauté the cumin, turmeric, and curry powder for 1 minute. Add the cooked potatoes and sauté until toasted. Add the spinach and, once wilted, season with salt and pepper to taste.
Makes 6 to 8 servings
Related Posts
Respond
In This Section