Creole Jambalaya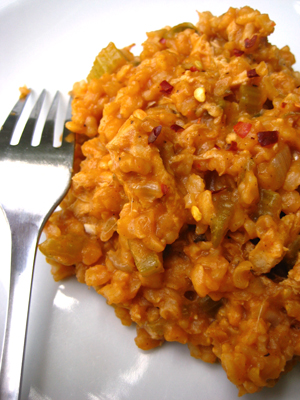 Jambalaya is one of those New Orleans menu staples that is so common that you would be hard-pressed to find a restaurant that doesn't offer it to patrons—right along with po' boys and gumbo.
To many outside the Deep South, there is still some confusion over exactly what the differences are between gumbo and jambalaya. Yes, they are both rice dishes that start with the trinity of onion, bell pepper, and celery. Yes, they can both be cooked with the same meats, seafood, or faux meats. And yes, they can even have some of the same seasonings. Many similarities, but the results are two very different dishes.
Gumbo is usually prepared more like a soup that is served over rice, while Jambalaya is usually made by cooking the rice in one pot with all the other ingredients, the result of which is closer to a pilaf or paella than a soup. Gumbo is made with a roux and thickened with okra or filé powder, and Jambalaya is made thick simply by the ratio of stock to rice.
There are two different methods of preparing Jambalaya, and both are very common—Cajun and Creole. The Cajun version is made without tomatoes, while the Creole version is made with them.
The recipe below is for the Creole version and contains Morningstar Farms Chik'n, but you can play around with a variety of faux meats. Throw in a little veggie sausage or veggie shrimp—get crazy with it!
Creole Jambalaya
1/2 cup vegan margarine
1 medium onion, chopped
1 medium bell pepper, chopped
2 stalks celery, chopped
3 cloves garlic, minced
24 oz. vegetable broth
1 cup water
8 oz. tomato sauce
2 cups brown rice
2 bay leaves
2 tsp. thyme
2 tsp. cayenne
2 tsp. Cajun seasoning
Salt and pepper, to taste
1 pkg. Morningstar Farms Meal Starters Chik'n Strips
•In a large pot, melt the margarine over medium-low heat, then add the onion, bell pepper, celery, and garlic. Cook for about 15 minutes, until soft.
•Add the vegetable broth, water, tomato sauce, rice, bay leaves, thyme, and cayenne and bring to a boil. Reduce the heat to low, cover, and simmer for 1 hour. Check for doneness. If the rice is still firm, add 1/2 cup water and cook for an additional 15 minutes, repeating until done.
•Prepare the "chicken" strips according to the package instructions, then chop into 1-inch pieces. Add the "chicken" to the pot, season with salt and pepper, and serve.
Makes 8 servings
Respond