Creamy Soup Without the Dairy
If the creamy texture is what you miss about eating dairy products, one easy way to satisfy your craving is by using puréed white beans. They won't taste like dairy, but they do have a similar texture with certain preparations and can be just as satisfying.
Here are a few good recipes I found online that whiz white beans into creamy goodness. Orangette displays a beautiful picture of Dreamy White Beans, shares the easy recipe, and, yes, even apologizes for the name. And White Bean and Arugula Tortellini is on display at Vegan Visitor.
My personal favorite is to make a creamy soup out of white beans, but I mix it up a little by only blending half of the soup at the end. You're left with the silkiness of the puréed beans and the heartiness of the whole ones—a delicious combination.
You can also use potatoes or rice to achieve creaminess without dairy, if beans aren't for you. Also note that any soup can achieve an extra smoothness when put through the beast of a machine that is a Vita-Mix and then through a fine-mesh strainer.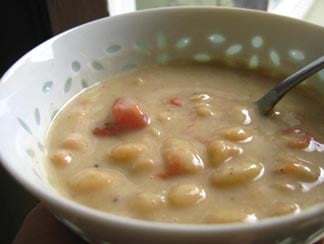 White Bean Soup
1 lb. dried cannellini beans
2 cups cold water
2 Tbsp. olive oil
1 large onion, chopped
3 garlic cloves, crushed
1 celery stalk, chopped
1 tsp. thyme
1/2 tsp. sage
2 bay leaves
8 cups faux-chicken or vegetable stock
1 cup diced tomato
Salt, to taste
Pepper, to taste
Juice of 1/2 lemon
Put the beans and water in a bowl and soak overnight.
Drain the beans and set aside.
Heat the olive oil in a large saucepan over medium heat. Add the onion and cook for 5 minutes. Add the garlic and cook for another minute. Add the beans, celery, thyme, sage, and bay leaves. Stir in the stock and bring to a boil. Lower the heat, cover the pot, and allow to gently simmer for 1 1/2 hours, or until the beans are tender, stirring occasionally.
Allow to cool slightly. Purée half the soup in a food processor or blender, then return to the pot.
Add the diced tomato and season with salt and pepper. Reheat but do not boil, then add the lemon juice just before serving.
Makes 8 servings
Respond