Crazy Beets From the Dirty South
Written by
Amy Snyder
|
August 15, 2007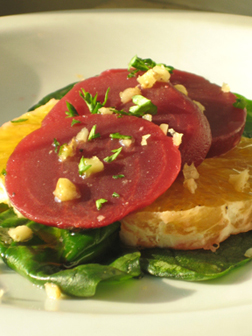 After browsing through several restaurant menus online last week, I started to notice a trend. At Millennium, roasted beets were listed as one of the small plates. At Counter, a roasted beet salad was offered as a mezze dish. And at Blossom, I noticed a tofu and roasted beet salad on the starter menu. Hmm…
I decided to jump on the beet bandwagon and make a salad of my own, using a recipe that tops roasted beets, oranges, and spinach with a Georgia-peanut vinaigrette—a dressing rooted deep in the Dirty South. You can just call it the Dirty Dirty if you'd like. That works too.
I tried to use fancy plating techniques so I would feel like I was eating at one of the above restaurants that I have long wished to visit. My longing started when I was still at The Grit, having nonstop conversations about food with my friend Patrick. We constantly talked about our dream of running away to San Francisco to work in the kitchen at Millennium, but instead of actually doing so, we just settled for reading the restaurant's cookbook. Do all vegan foodies dream of this, or is it just us?
Spinach, Oranges, and Roasted Beets With Georgia-Peanut Vinaigrette by Brad Barnes For the Georgia-Peanut Vinaigrette:
1/2 cup cider vinegar
1/2 cup sherry vinegar
2 oz. maple syrup
2 Tbsp. minced shallots
1/4 tsp. crushed black pepper
1/4 tsp. ground coriander
Pinch of dry mustard
1/4 tsp. ground fenugreek
6 oz. cold-pressed peanut oil
10 oz. extra-virgin olive oil
3 Tbsp. thinly sliced chives
3 cups baby spinach, washed
In a large saucepan, combine the vinegars, maple syrup, shallots, black pepper, coriander, dry mustard, and fenugreek. Bring to a boil.
Reduce the heat and simmer until reduced by one-third. Remove from the heat and chill. Purée in a blender, slowly adding the peanut oil and the olive oil.
Strain, then add the chives.
Toss with the spinach.
For the Marinated Oranges:
2 oz. lime juice, strained
1/4 tsp. crushed black peppercorns
3 Tbsp. chopped parsley
3 oz. extra-virgin olive oil
30 orange sections, filleted
Combine the lime juice, black peppercorns, parsley, and olive oil. Pour over the oranges and marinate for 1 hour, then drain.
For the Roasted Beets:
10 golf ball-size red beets, washed
Vegetable oil sufficient to coat the beets
1 pt. white wine vinegar
6 Tbsp. white sugar
1 tsp. salt
1/2 tsp. mustard seed, toasted
1/2 tsp. fennel seed, toasted
1/2 tsp. coriander, toasted
3 allspice berries, toasted
1 garlic clove, peeled
Heat the oven to 400°F. In a baking dish, combine the beets with the vegetable oil and roast until soft. Peel and set aside.
In a large saucepan, combine the remaining ingredients and bring to a boil. Reduce the heat and simmer for 5 minutes. Strain and pour over the hot beets.
Chill overnight.
To Assemble the Salad:
Slice the beets and arrange on a plate with the marinated orange slices and the spinach-and-peanut vinaigrette mixture.
Makes 6 servings
Respond