Be a Compassionate Cook This Christmas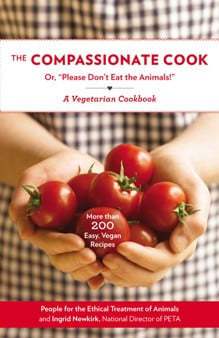 The following article was written by Heather Moore.
My all-time favorite cookbook, The Compassionate Cook by Ingrid Newkirk, has been re-released in time for the holidays! It's a good thing, too, since my old one is torn and tattered and covered with chocolate stains, because I made Karin's Incredible Chocolate Pie so many times.
The book includes many festive recipes, so it will come in handy when I'm making my Christmas feast. I'm planning a healthy holiday spread this year, so my guests can indulge without worrying about their own "holiday spread."
How's this sound? Mouthwatering, right?
Sweet Potato Puffs
1 1/4 lbs. sweet potatoes, peeled
6 Tbsp. soy milk
Salt and pepper, to taste
2 10-oz. pkg. frozen puff pastry shells (12 shells)
Bake the potatoes for 30 minutes, then purée with the soy milk and salt and pepper.
Bake the pastry shells according to package directions.
Remove the shells from the oven, remove the tops and fill with the sweet potato mixture. Replace the tops and serve immediately.
Makes 12 servings
Cruelty-Free Pâté
This pâté is great on crackers or toast, and the cookbook includes a variation for serving it in a puff pastry shell.
1 Tbsp. margarine or water
1 medium onion, chopped
2 lbs. fresh mushrooms, finely chopped
4 cloves garlic, minced
2 Tbsp. chopped fresh parsley or 2 tsp. dried
2 Tbsp. chopped fresh rosemary or 2 tsp. dried
1 1/3 cups breadcrumbs
2 Tbsp. lemon juice
Salt and pepper, to taste
In a large saucepan, heat the margarine or water and cook the onion for 10 minutes.
Add the mushrooms and cook for another 20 to 30 minutes, or until all the liquid has evaporated.
Remove the mixture from the heat and add the garlic, parsley, rosemary, breadcrumbs, lemon juice, and salt and pepper. Spoon into a serving dish and serve immediately.
Makes 6 servings
Sautéed Green Beans With Breadcrumbs and Walnuts
2 Tbsp. water
1 lb. fresh green beans, trimmed
1 Tbsp. vegan margarine
1 Tbsp. minced garlic
1/2 cup fresh breadcrumbs
1/4 cup coarsely chopped walnuts
Salt and pepper, to taste
Heat the water in a medium-size saucepan over medium heat. Add the beans and cook, stirring constantly, until tender but crisp, about 8 minutes.
Turn the heat down to low and stir in the vegan margarine, coating the beans. Add the garlic and stir a few more minutes. Add the breadcrumbs, walnuts, and salt and pepper. Serve while warm.
Makes 4 servings
Stuffed Acorn Squash
3 acorn squash, halved, with seeds removed
1/4 stick vegan margarine, melted
2 Tbsp. olive oil or water
1 small onion, finely chopped
2 stalks celery, finely chopped
2 medium apples, peeled and finely chopped
1/4 cup pure maple syrup
1/2 cup raisins (optional)
1/4-1/2 tsp. each: dried parsley, sage, rosemary, and thyme
Salt and pepper, to taste
1 pkg. vegan cornbread stuffing
Preheat the oven to 400ºF.
Brush the inside of each squash half with the vegan margarine and set aside.
Heat the oil or water in a medium-size frying pan over medium heat. Cook the onion, celery, and apples for about 8 minutes. Add the syrup, optional raisins, herbs, and salt and pepper. Mix well.
In a large bowl, mix the cornbread stuffing with the vegetable mixture. Spoon into each squash half and cover with foil.
Bake for 40 to 45 minutes, or until squash is tender.
Serve with Chickenless Gravy. (The recipe is included in The Compassionate Cook.)
Makes 4 to 6 servings
Brazil and Cashew Nut Roast With Chestnut Stuffing
2 Tbsp. margarine or water
1 medium onion, finely chopped
1 clove garlic, crushed
5 stalks celery, finely chopped
3/4 cup cashews, finely ground
3/4 cup Brazil nuts, finely ground
1/4 cup flaked millet
1/4 cup breadcrumbs
1/2 cup mashed potatoes
2 tsp. minced fresh parsley
1 tsp. dried sage
1/2 tsp. dried oregano
1/4 tsp. ground ginger
1/4 tsp. cayenne pepper
1/4 tsp. curry powder
Juice of 1/2 lemon and rind, grated
Dry wine, vegetable broth, or water
Salt and pepper, to taste
1 cup chestnut purée
Preheat the oven to 375ºF.
Heat the margarine or water in a medium-size frying pan over medium heat and cook the onion until transparent, about 5 to 7 minutes. Add the garlic and celery and cook 1 minute longer.
Put the mixture in a large bowl with the cashews, Brazil nuts, millet, breadcrumbs, potatoes, herbs and spices, lemon juice, and rind. Add enough wine, broth, or water to moisten so that it holds together. Season lightly with salt and pepper and mix well.
Put half the mixture in an 8 1/2-inch-by-4 1/2-inch loaf pan. Cover with the chestnut purée and add the remaining loaf mixture. Bake for 45 minutes.
Makes 8 servings
Are you celebrating a compassionate Christian holiday? Please visit JesusPeopleForAnimals.com.
Want to get more delicious recipes like these as well as ideas on ways you can help animals, improve your health, and protect the environment in the new year? Text 2016 to 73822 (U.S.) or 99099 (Canada), and we will provide you with the inspiration you need to make 2016 #TheYearOfVegan!
Message & Data Rates May Apply. Text STOP to end or HELP for info. Full Terms: http://peta.vg/txt
Respond