Mapping Out the Best Comfort Foods in America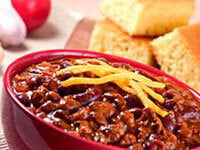 Nearly all American cuisine comes from a melting pot of ethnic recipes infused with regional ingredients and cooking techniques. No matter where you call home, nothing is more comforting than a down-home meal of comfort foods! Ready for a menu that spans the United States? Then help yourself to the best comfort foods from around the country.
New England
Known for their signature chowders and corn-based meals, which are a result of early Native American influences, these Yanks know how to cook up some "wicked" good eats. Nothing beats waking up to a heaping stack of Johnny cakes on a crisp, cool morning or warming up with a hot "cupachowda" and blueberry slump—a concoction of hot fruit and dumplings—on a blustery New England afternoon. For clam-free chowder that'll make you as happy as a clam saved from a soup bowl and for Johnny cakes and blueberry slump that our founding fathers would've liked to have gotten their forks into, check out our vegan takes on these New England classics.
Corn Chowder
Johnny Cakes
Blueberry Slump
The Midwest
Welcome to America's Breadbasket, where "amber waves of grain" are predominant in the farmlands and fertile soil of the block of states, stretching from Ohio to the Dakotas.
Influenced by the ethnic cooking of early Scandinavian, Dutch, and German settlers, at the heart of every generously portioned Midwest dinner is a simple stick-to-your ribs recipe, with no fancy or exotic seasonings. Take a hearty and humane helping of our vegan versions of three classic Midwestern meals: pasties, macaroni and "cheese," and apple dumplings.
Pasties
Vegan Mac & Cheese
Apple Dumplings 
The South
Y'all know you're in the South by the humidity in the air and the sweet tea on your table! The South is one of the most colorful and distinctive regions in the country.
Traditional Southern cooking is an amalgam of tried and true recipes of Native Americans, African slaves, and subsistence farmers who all learned from one another to use native ingredients in creative ways. If you're fixin' to cook up some yummy vegan vittles, then get down with our down-home recipes for hushpuppies that'll have you howling, "chicken" and dumplings that'll make you crow, and shoofly pie that'll give your taste buds wings.
Hushpuppies
'Chicken' and Dumplings
Shoofly Pie
Fried 'Chicken'
The Southwest
With its arid atmosphere and magical landscape of deserts and starkly beautiful, open spaces, the Southwest, which comprises Arizona, New Mexico, Oklahoma, and Texas, is one of America's unique treasures.
Common ingredients in Southwestern cuisine, which is a combination of Spanish, Mexican, and Native American dishes, include chilies, tortillas, tomatoes, red pepper, cumin, and cinnamon. For a signature Southwestern feast featuring this region's traditional flavors, chow down on our carne-free chili and our vegan version of buñuelos—a Mexican Christmas treat made of fried, sweet tortillas topped with sugar and cinnamon.
Flaming Firehouse Chili
Quinoa With Fresh Cilantro
The Pacific Northwest
The Pacific Northwest, which includes Washington, Oregon, and Idaho, is renowned for rainy days, laid-back living, lush green forests, and breathtaking mountain ranges such as the Cascades and the Rockies.
The sea, which has always played a major part in the life and culture of the Pacific Northwest, has also had a big influence on regional food favorites. Shepherd's pie, a traditional British dish, in which the ingredients of the "pie" are covered with a blanket of baked mashed potatoes; sailor skillet bread, a slightly sweet treat baked in a hot skillet; and creamy chocolate bread pudding with rum sauce are enduring favorites of seafaring folks. Set the course—and your table—for these vegan versions that are sure to "shiver yer timbers."
Shepherd's Pie
Sailor Skillet Bread
Chocolate Bread Pudding With Rum Sauce 
Related Posts
Respond