Classic 'Beef' Stroganoff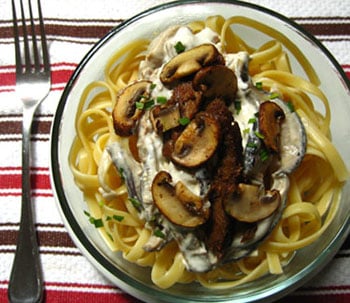 After reading so many great responses in which I asked all of you to tell me what recipes you'd like to see featured here—I was both eager to get started on my search for the best and completely overwhelmed all at once. With so many great ideas thrown out there, it was impossible to decide on just one, so I'm going to feature the one that came first.
The first is a veganized version of "beef" stroganoff that so many of you requested. I asked a friend, who just happens to be a vegan chef, for help with this one—just to make sure that I don't disappoint. He came back to me with a classic version of the dish that is focused around "beef," mushrooms, and soy sour cream.
This may not be the stroganoff recipe you remember. It's not the stroganoff I remember. My mom made a version that had tomato paste added into the sauce (which is common, as is adding mustard), and I'm pretty sure there were mushrooms no where in sight. This classic stroganoff ignores both of those additions and goes for the full flavor of soy sour cream as the base. Enjoy!
Classic 'Beef' Stroganoff
6 Tbsp. vegan margarine (try Earth Balance)
1 pkg. Morning Star Farms Steak Strips
1/3 cup shallots, chopped
1/4 lb. cremini mushrooms, sliced
1/4 lb. shiitake mushrooms, sliced
1/2 tsp. dry tarragon or 2 tsp. chopped fresh tarragon
Salt and pepper, to taste
1/4 cup dry white wine
1/4 cup faux beef stock (try Better Than Bouillon No Beef Stock)
1 cup vegan sour cream, at room temperature
1 pkg. prepared fettuccine noodles
•Add 3 tablespoonfuls margarine to a medium pan. Let melt. Add the "steak" strips and cook until browned. Remove from the pan and set aside.
•In the same pan, add the remaining margarine and the shallots, mushrooms, and tarragon, then season with the salt and pepper. Stir occasionally for about 5 minutes.
•Add the wine and reduce by half, then add the "beef" stock and reduce by half again.
•Add the vegan sour cream and reduce heat to low. Simmer until heated through. Add the browned "steak" strips (reserving a few to place on top) and re-season if necessary.
•Serve over cooked fettuccine noodles.
Makes 4 servings
Respond