Chipotle Sweet Potato Skins
Written by
April 23, 2013
|
If you ask me, sweet and spicy are flavors that are always better when they're together. The mixture of chipotle peppers and sweet potatoes in this dish is sure to be a crowd-pleaser at your next potluck, dinner party, or meal for one (hey, I won't judge you!). Enjoy!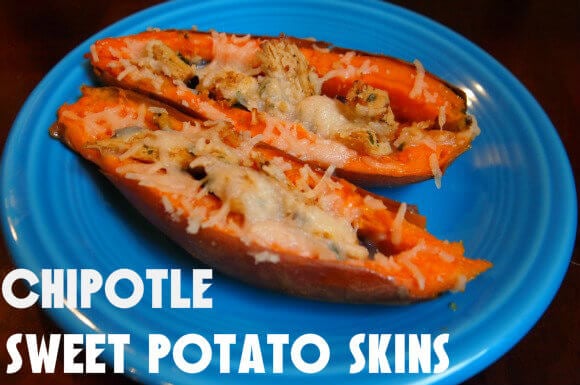 Chipotle Sweet Potato Skins
5 medium sweet potatoes
3 whole chipotle peppers, minced
2 cloves garlic, minced
1/2 medium white onion, chopped
2 Tbsp. vegetable oil
1 tsp. dried oregano
1 tsp. cumin
2 tsp. chili powder
Dash salt and pepper
1 8-oz. pkg. vegan chicken strips
1 15-oz. can black beans
1 cup shredded vegan cheese
Optional garnish: avocado, guacamole, or soy sour cream
Preheat the oven to 350˚F.
Prick the sweet potatoes with a fork and bake until tender, about 50 to 60 minutes. Remove from the oven, slice in half lengthwise, and allow to cool for 10 minutes.
Change the oven temperature to 400˚F.
Sauté the chipotle peppers, garlic, and onion in 1 tablespoonful of the vegetable oil until fragrant, about 3 minutes. Add the oregano, cumin, chili powder, salt, and pepper.
Add the vegan chicken strips and sauté on medium heat until well cooked, about 8 to 10 minutes.
Heat the black beans separately on the stove or in the microwave.
Once the potatoes have cooled, scoop out the majority of the flesh, leaving a very thin layer of potato in the skins. You can reserve the scooped-out flesh for another use.
Coat the potato skins with the remaining oil. Bake for 5 minutes, then remove from the oven.
Sprinkle a bit of vegan cheese into the hollowed, slightly crispy potatoes. Add a layer of the vegan chicken, followed by a layer of black beans, then top with more vegan cheese. Repeat this step until all the potato skins are filled.
Bake for 10 more minutes, or until the vegan cheese is melted. Garnish with avocado, guacamole, or soy sour cream.
Serve immediately.
Makes 4 to 6 servings
Respond
In This Section