Chipotle Mac and 'Cheese' With Roasted Brussels Sprouts
|
I've been vegan for years, but I still had not mastered a go-to mac and cheese recipe until I came across this chipotle mac and "cheese" on the Post Punk Kitchen website. If you love spicy food and Brussels sprouts like I do, this recipe will not let you down! I always forget how spicy chipotles can be, so seeding them is a must. You can also substitute the Brussels sprouts with kale, broccoli, or any other vegetable, and the chipotles can be replaced with roasted red peppers or just left out completely. It's also worth noting that this recipe is very simple and easy to make.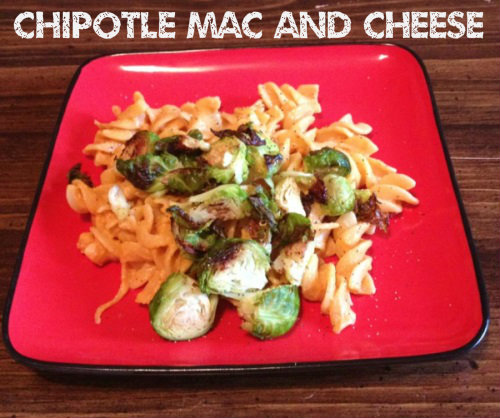 Chipotle Mac and 'Cheese' With Roasted Brussels Sprouts
Adapted from the Post Punk Kitchen 
1 lb. Brussels sprouts, quartered
1 Tbsp. olive oil
Salt, to taste
1 cup cashews, soaked in water for at least 2 hours
4 chipotles, seeded
1 cup vegetable broth
2 cloves garlic
2 Tbsp. nutritional yeast flakes
2 Tbsp. miso
8 oz. macaroni (any type)
 Preheat the oven to 425˚F.
Line a large baking sheet with parchment paper. Toss the quartered Brussels sprouts with the olive oil and a dash of salt. Bake for 18 minutes, or until lightly browned.
Put the drained cashews, chipotles, vegetable broth, garlic, nutritional yeast flakes, and miso in a blender and blend until completely smooth.
Cook the pasta according to the package directions. Drain the noodles and place immediately back in the pot on low heat.
Add the chipotle sauce and stir for a few minutes until the sauce thickens and everything is creamy.
Season with salt, if needed, and stir in the Brussels sprouts. Serve!
I like serving this with a kale salad, but the possibilities are endless!
Makes 4 servings
Related Posts
Respond
In This Section