The Chile Relleno: Oh So Ugly, But Oh So Good
Written by
Amy Snyder
|
July 27, 2007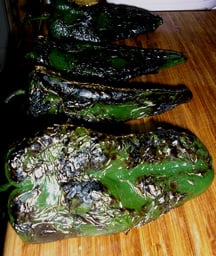 Chile rellenos are probably the hardest food on the planet to take a good picture of. Honestly, they don't even look that good in person. They are often deflated, with soy cheese oozing out the side, and very soft because they've been cooked three times, but that is exactly what makes them taste oh so good.
This had to be a Saturday night meal for me because the recipe was time-consuming — not difficult, just long. I really tried to make chile rellenos that would hold their shape — and avoid the deflated, oozing blob problem I've had in the past — so I added a mashed potato mixture to the filling. It definitely helped with the taste but didn't make the peppers look much better.
I tried different plating techniques, but fancy presentation and adding the roasted red-pepper sauce in different ways didn't make them look any better. I know pepper on top of pepper might sound too spicy, but it wasn't, and the flavors complemented each other perfectly. Again, great taste, but disappointing in the looks department.
This is a little dramatic, but perfecting my chile relleno recipe has long been one of my goals in life (along with meeting Kobe Bryant). With this one pretty darn close to perfect, I guess I can start working on those photographs…
Chile Rellenos  
For the Peppers:4 poblano peppers
Roast the peppers until the skin is black and charred. (To do so, either place on a baking sheet and roast under the broiler or roast over an open flame. Tip: Place each charred pepper in a plastic bag, being sure to close the bag after each is added. This will trap the heat, making the peppers easier to peel. Leave all 4 peppers in the bag for 4 to 5 minutes.)
When cool enough to handle, gently remove the skin from each pepper. Cut a 1- to 2-inch incision lengthwise into each pepper and remove all the seeds, being careful not to tear the skin.
For the Filling:
1 large baking potato, cut into 1-inch dice
1 Tbsp. olive oil
1/4 cup diced white onion
1 clove garlic, minced
Juice of 1/2 lime
Salt and pepper, to taste
1 1/2 cups shredded soy cheese (try Follow Your Heart "mozzarella")
Add the diced potatoes to a large pot, fill with enough water to cover, and bring to a boil. Reduce to a simmer and cook for 15 to 20 minutes, or until tender. Drain and place in a large mixing bowl.
Add the olive oil to a sauté pan and place over medium heat. Add the onion and garlic and sauté for 2 to 3 minutes, until just cooked. Add to the boiled potatoes along with the lime juice, salt, and pepper. Mash thoroughly, leaving no large chunks. Fold in the shredded "cheese."
For the Sauce:
1 Tbsp. olive oil
1/4 cup diced white onion
1 clove garlic, minced
8 oz. roasted red peppers
1/4 cup water Salt and pepper, to taste
Heat the olive oil over medium heat. Add the onions, garlic, and roasted red peppers. Sauté for about 5 minutes. (Tip: Use jarred red peppers and save yourself the trouble of having to roast those too. Just be sure to drain the liquid before adding the peppers to the pan.)
Place the entire mixture in a blender and add the water. Blend until smooth. Pour back into the pan and season with salt and pepper.
To Assemble:
1 qt. vegetable oil for frying
1 cup baking mix (try Bisquick)
1/2 cup soy milk
Egg replacer equivalent to 1 egg (try Ener-G brand)
1/2 cup all-purpose flour for coating
Cilantro for garnish (optional)
Heat the vegetable oil in a large pot until it reaches 365°F. Preheat the oven to 350°F.
Carefully fill each pepper with just enough of the potato and cheese mixture until it is slightly larger than its original size. Close all incisions in the pepper with toothpicks.
Blend the baking mix, soy milk, and egg replacer in a medium bowl, forming a batter. Coat each pepper in flour and then dip into the batter. Immediately drop each pepper into the vegetable oil and fry until golden brown. Remove and place on a paper towel-lined plate. When all 4 peppers have been fried, place on an ungreased baking sheet and bake for 15 minutes.
Remove the toothpicks from each pepper, place on a plate seamside-down, and top with the roasted red-pepper sauce. Garnish with cilantro, if desired.
Makes 4 servings
Respond