'Chicken' and Mushroom Quesadillas
Having lived in both Atlanta and Los Angeles has spoiled me, as far as finding a good Mexican restaurant goes. In both cities, you can often find an abundance of options within any given 5-mile radius. Whether you're looking for a quick burrito, sit-down Tex-Mex, authentic dishes, or just a mariachi band, you can find it in L.A. or the ATL.
Because of this constant exposure, along with my time as a server at Mexicali Grille, I've developed a deep love for—more like an obsession with—Mexican food.
Luckily for me, the Tex-Mex classics that I enjoy most can be easily veganized. You can use beans to replace the meat in most dishes, or you can substitute faux meats such as "chicken" strips or veggie crumbles. Soy cheese that actually melts has made classics, such as quesadillas, a vegan reality.
The recipe below is even better than the veggie quesadillas I remember eating in high school. My best friend Erin and I would visit the local El Azteca on almost a daily basis, so I got to know its quesadillas very well. I obviously loved the food, but the quesadillas always seemed to be lacking in seasonings. Fortunately, this one gets it right with the dash of chili powder, cumin, and cilantro, all inside the grilled tortilla.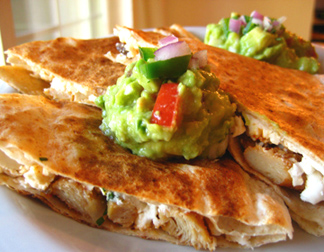 'Chicken' and Mushroom Quesadillas
1/4 cup vegetable oil
1 pkg. faux-chicken strips (try Morningstar Farms Meal Starters Chik'n Strips)
1/2 cup chopped onions
1 lb. assorted mushrooms (try crimini, portobello, shiitake, or any other variety)
1 Tbsp. chopped garlic
1 Tbsp. chili powder
1/2 tsp. cumin
2 tsp. salt
1/3 cup chopped cilantro
12 flour tortillas
2 cups shredded vegan Monterey Jack cheese (try Follow Your Heart brand)
Oil for cooking the quesadillas
Heat the oil in a large sauté pan; add the strips and cook for 3 minutes on each side, or until browned and crispy. Remove from the oil and set aside.
Add the onions and cook for 3 to 5 minutes, or until softened.
Add the mushrooms and garlic and sauté on medium-high heat for 8 minutes, or until the mushrooms have softened and released their liquid. (Note: You may add additional oil if the mushrooms become dry during cooking.)
Place the chili powder, cumin, salt, and cilantro in the pan and mix well; remove from the heat.
Lay out 6 tortillas and evenly spread the cooked mixture onto each tortilla. (Note: If there is residual liquid, pick the mushrooms up out of the liquid to prevent soggy quesadillas.)
Sprinkle the "cheese" on top, cover with the remaining tortillas, and brush the tops lightly with vegetable oil.
Heat a clean nonstick sauté pan and place one quesadilla at a time, oiled side down, into the heated pan. Brush oil on the dry side of the quesadilla.
Cook for 3 minutes, or until browned. Flip and cook the other side. Repeat until all the ingredients are used.
Cut each quesadilla into 4 segments and serve with salsa, guacamole, and vegan sour cream.
Alternate Cooking Method: Oil both sides of the quesadillas, place on a cookie sheet, and cook in a preheated 375°F oven for 10 to 15 minutes, or until crispy.
Makes 6 quesadillas
Respond