Chef of the Month: Amanda Cohen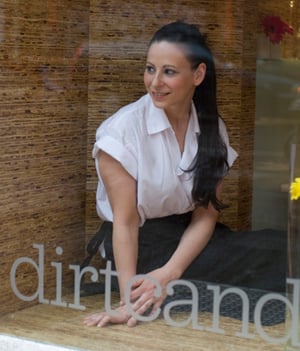 New York City is known for great restaurants, and vegetarian restaurants are no exception. You could borough-hop for a week and never eat at the same place twice if you didn't want to. And one of the restaurants that you might find yourself revisiting is Chef Amanda Cohen's Dirt Candy, where the focus is on vegetables—and where everything on the menu is available as vegan or vegetarian.
I'm happy to announce that Amanda has been named "Chef of the Month" for October and has given us a little insight to her food background and philosophy. Check out our Q&A with Amanda below, and be sure not to miss her recipes at the end of the post.
Where did you train to become a chef?
The Natural Gourmet.
What type of cuisine do you focus on?
Well, I've cooked vegetarian, vegan, raw, and meat, but Dirt Candy is where I get to do what I love: vegetarian cooking.
Do you have a favorite cooking method?
My philosophy is: whatever works. Everything at Dirt Candy comes in a vegan and a non-vegan version, and I really like skipping back and forth between vegan and vegetarian cooking. Vegan cooking is challenging in a way that's a lot of fun. It wakes your brain up. And I actually think that the Orange Tofu we serve is better vegan (we use coconut milk in the sauce instead of butter).
What are your favorite ingredients to work with?
Right now, what I'm really into are potatoes. And even though beet season is wrapping up, I'll probably stay obsessed with them until the year's last beet is pulled up out of the dirt.
What are the most important elements in cooking great vegetarian cuisine?
Vegetarian food should be about what you can eat, not what you can't. Aping the "protein, sauce, side of veg" format of the standard meat dish just reminds omnivorous diners of what they're not eating, and it doesn't do justice to vegetables, fruits, grains, and all the other fun stuff we get to play with. To me, breaking the "meat replacement" mold is the most important element in cooking great vegetarian food.
What is the key to getting meat-eaters to enjoy vegetarian food?
One of the things I'm most proud of is how many committed carnivores have been dragged into Dirt Candy against their will by friends or significant others and have come up to me afterwards and said how much they loved it. I think the key is that you have to have fun, but you also have to take it seriously. You have to have fun because that's what eating out is about. The more fun you have in the kitchen, the more fun your customers are going to have. On the other hand, you have to take what you do seriously. You have to be able to cook as well as any classically trained French chef, and you have to be willing to have your food compared to restaurants that "cheat" by putting bacon on everything.
What, in your opinion, does the future of plant-based cuisine hold?
I think the challenge to all of us is that we have to be better. Vegetarian chefs are like the Ginger Rogers to the omnivore chef's Fred Astaire: Our job is harder because we have to do everything they do, only backwards and in high heels. We have to work twice as hard for half the respect. Despite this, we desperately need to engage with the mainstream food world, because it's not enough to preach to the choir anymore. Chefs and owners, myself included, need to step up our game. We need to become the 4.0 GPA overachievers of food.
And there is a huge opportunity here. Most omnivore chefs would rather spend their time playing with pork belly and offal because that's the kind of "rock and roll" cooking the food press currently celebrates. Vegetables are considered unworthy of their attention. Which means that young, hungry chefs who want to make a mark and who are really passionate about vegetables have a wide-open field in which to play. Vegetables are like the Wild West of cooking right now—there are no rules. Every day in my kitchen I feel like I'm on the best downhill plunge of the coolest roller coaster ever built.
In your opinion, what vegetarian dish or type of food is most frequently prepared poorly and why?
I think dishes with some kind of meat replacement like seitan or tempeh or mock meat usually wind up tasting pretty boring because they often use a mishmash of techniques and unpleasant-to-work-with products. And that's really too bad. Mock meats come out of the Chinese temple cooking tradition, and when you have Chinese vegetarian food done right it's mind-blowingly good.
If you were stranded on a deserted island and could only eat one kind of ethnic food, what would it be?
Indian. It has the world's oldest and best vegetarian food tradition, and it's one of the world's greatest cuisines to boot—and to my shame I know too little about it.
Can you give us one great cooking tip for aspiring vegetarian chefs?
If you're aspiring to work in a professional kitchen, work on your technique. Find the toughest, busiest restaurant you can and get a job on their line. Show up for work every day. Stay for at least a year. By the time your year is up, you'll either realize that working in a professional kitchen isn't for you and you'll move on to something that makes you happier, or you'll be on your way to having an indestructible technique that'll make you a ninja master in the kitchen.
For the home cook: fearless experimentation. Find the ethnic grocery stores in your neighborhood and buy copies of Linda Bladholm's The Asian Grocery Store Demystified. She's got one for Asian grocery stores, one for Indian grocery stores, and one for Mexican grocery stores. Take the books with you when you shop. Buy things you've never tried. There are so many awesome vegetarian traditions around the world that you can steal from, you'll never get bored. Then get one good knife (and learn how to sharpen it), one good pan, and the world will be your oyster (mushroom).
What are some ingredients that you recommend vegetarians and vegans have in their kitchens to cook with?
Splurge on good oils. Truffle oil, almond oil, hazelnut oil, or pistachio oil are all really nice ways to finish off a dish. You can drizzle them over just about anything, cooked or raw,
Related Posts
Respond
In This Section